Women are rising up the ranks throughout professional football, earning positions of power in a space that for too long was ruled almost exclusively by men. We're seeing more and more women breaking barriers in the sport, but what are the stories beyond the headlines? Who are the women shaping and influencing the NFL today? Answering those questions is the aim of the Next Woman Up series. While the conversational Q&As are edited and condensed for clarity, this is a forum for impactful women to share experiences in their own words. Without further ado, we introduce:
Stephanie Kolloff O'Neill, Tampa Bay Buccaneers
Position: Director of Performance Nutrition
How did you get your start in a career in sports nutrition?
I got my start in the field back in 2011 when I was an undergrad student at Arizona State University. My professors were probably annoyed with me because no matter what kind of patient I was given a case study, I added that he or she was an athlete. I remember doing a strength plan for a pregnant woman, and I added that she was an athlete. I had a 30-year-old male who I had to write a nutrition plan for, and I said he played in the NFL. So each project I had to do was always related to sports nutrition, and my professors knew I was very much into it and wanted to do that in my career.
Thankfully, I was able to take the sports nutrition class as a junior, and my professor introduced me to the Collegiate and Professional Sports Dietitians Association. From there, I was able to join as a student member, join their conferences, and through networking, I learned about a dietitian who was hired at Arizona State. Bless her because it was like her second day on the job, and I introduced myself and told her I was very interested in being an intern. I ended up getting the job and that's how I got my start.
Through CPSDA, I was able to be part of a sports immersion program sponsored by Gatorade, so I was an intern at Auburn. I always tell my interns to be so valuable that you leave a gaping hole when your time is up, essentially show that you are irreplaceable. That is how I was able to get my start because that internship was extended into a spring internship, which turned into a new graduate assistant position for me, which turned into the first full-time assistant dietitian position at Auburn. Each one led into a new role.
I then went to Texas A&M as their football performance dietician, and when this position opened with the Tampa Bay Buccaneers, my husband, Casey, and I made the decision that I would chase down my NFL dream. He was so supportive and willing to do whatever we needed to do to make it happen. Luckily, his company is great and allows him to work from home, so we've been able to do three or four cross-country moves.
Can you take me through what your schedule looks like?
I oversee all the nutritional needs for our players, whether that's at the facility or in their own home in the offseason, preseason or regular season. In preseason, we roll out about five meals a day between standard meals and snacks. The players are in the building from 6 a.m. to 9 p.m. or 10 p.m.
During the regular season, the players are in the building between 6 a.m. to about 4 p.m. depending on the position group. We're helping them figure out what their evening routine looks like, whether they have a family or are a solo dude trying to figure out life in Tampa. We want to make sure we are helping them make successful choices when it comes to nutrition. On the road, we cover everything from when we arrive at the airplane, in-flight meals, hotel meals, stadium catering, post-game meals, in-flight food on the way home and what the very next morning looks like.
There is a lot of prepping that goes into all of it. During the 2020 NFL season when we went to the Super Bowl, we worked 27 straight weeks. We are at the facility every day players are, and that's literally every day from the start of our rookies showing up to camp.
Wow, that is a lot of time. I want to break down the year a little bit. How do you approach the training camp phase when there are almost twice as many players in the facility as there are in the regular season?
Besides working individually with 90 players during training camp, there are still all of the operational aspects that exist. So, we are trying to get individualized fueling and hydration plans set up to make sure the players are getting everything they need to be able to perform in practice and on game days.
At the same time, we are in constant communication with the hotels we'll be staying at during the regular season, whether that's our home hotel or in away cities, including Munich, Germany. It's a constant moving target because while you're meeting with one specific player for a specific need, you also need to be thinking about the big picture of a game week and future weeks.
A great example of that is when you're approaching the postseason, you're trying to look at four or five different cities that we could end up playing in. Then you have to have numerous items gathered ahead of time to send off to those road games. Hopefully, you get the first seed because it makes life a lot easier. But a lot of the time, we're in communication with multiple hotels in multiple cities before it's set in stone.
My first international game was London in 2019, when the Bucs played the Panthers at Tottenham Hotspur Stadium. It was a wild experience. I knew that game was coming up when I took the position earlier that year. What I didn't know was that our advanced items were getting shipped at the start of training camp, so the things I was trying to plan and prep for a game in October, I hadn't seen the game needs of our team yet. That was a lot of trusting my own knowledge and instincts and talking to our players.
I'm very glad to have that experience under my belt to now be the first designated home team for a game in Germany. It's very exciting to be part of that game, and I was able to be part of our scouting trip to get in on the planning and logistics of where we're staying, practicing, playing the game and how all of that will break down for the team. We started communicating in the summer with the hotel staff about our stay and culinary needs. Again, it's a constant moving target but things were in motion for that several months in advance.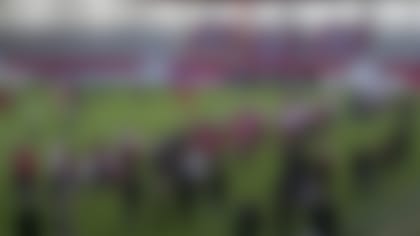 We shipped the advanced items off in August. There are certain products that are made differently in the U.S., so they are shipped because that's what the players are familiar with. In the crucial time heading into a game from a fueling standpoint, we want to make sure we are hitting our same targets and things are as familiar as possible. Even though we are tens of thousands of miles away from home, we want to make sure it's the same setup for them. That consistency game to game is crucial to ensuring that they are in an comfortable environment and trusting food they are familiar with so they are able to focus solely on the game plan and their execution come game day.
With differences in customs between Germany and the United Kingdom, we had to get extra creative with how we were able to send over some of our products. We worked with the chef at the hotel in Munich to come up with more familiar items since we weren't able to send over certain things for this trip. For example, grape jelly isn't a thing in Germany. We had to find other options for players whose pre-practice or pre-game food is a PB&J.
Are there any differences in the stadium catering process?
A big difference for European stadiums is the timing of games. They are used to soccer games that operate in two halves. With games in the U.S., we would normally order food four and a half hours prior to kickoff, including an item for the first quarter, an item for five minutes before halftime, etc. The German caterers are not used to that timing system, so we have had to be very clear on that, especially with the post-game meal. If that arrives late, you might miss the end of the game. If it gets there too early, the food won't hold properly in temperature and quality. There have been so many games at Wembley Stadium in London over the years that its staff has adjusted to accompany NFL teams, but for Allianz Arena in Munich, this is an entirely new process.
What approach has the team taken to this game when it comes to the time change?
Germany is six hours ahead of Eastern Standard Time. When jumping forward a significant amount of time like that, it's important that the players start shifting their clocks before the team travels. That means going to sleep a little earlier and setting their alarms a little earlier in the morning in the days leading up to travel day. The goal was to prioritize our meals and hydration to support sleep on the flight, which is generally not the case for regular away games.
The last question I have about the international trip is simply: What are you most excited about?
I'm glad it's finally here. There has been so much preparation for this game, so I think a lot of players and staff feel that way. We've had huge travel this season with road games, relocating to Miami for a week due to Hurricane Ian and now Germany. We are really happy we have this game and excited that we get to execute our plans.
You talked about working with individual players, and Tom Brady has been very vocal about his health journey throughout his career. How much do you work with Brady or other players who have their own approaches to their nutrition?
My goal is to know each player has an individualized approach simply for the fact that each player is different. You might have a Tom Brady who is very well-versed in nutrition, another veteran player who hasn't had a ton of education on nutrition and two rookies who are coming from different universities, where one learned a lot from a collegiate dietician and the other didn't have that resource. We are constantly trying to make sure that each player is being met where they're at in terms of their food understanding and buy in to nutrition, etc.
We would love for everyone to have a firm grasp of what their body needs and how it responds, so our goal is to help them get from where they're at to where they need to be to be the best both on and off the field. These guys are focused on performance, which heavily relies on their overall health and wellness. Nutrition plays a huge role.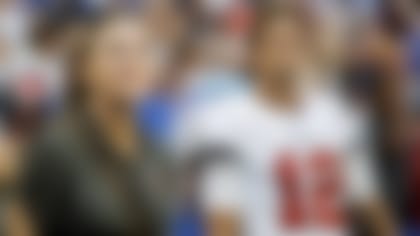 That's a great point. What is the most challenging part of your position?
No matter what we do, not everyone will be happy at the end of the day. There is always that inherent desire for everyone to leave happy, and I'm always trying to do my best to take care of the fueling and hydration needs for each player. You might miss one person and in the grand scheme of things, you've done your best, but it's tough when there's not time to help everyone.
The Buccaneers have a number of women in prominent roles. What does it mean to you to be part of an organization that has been a champion for women on the football side?
From owner Darcie Glazer Kassewitz to Bruce Arians, their support for females on the football side is unmatched, and I'm so grateful to be a part of that. But what's most important is that it's natural. Women here don't walk around the building feeling like we're the first to do this or first to do that. We are accepted and it's not thought of. That's the goal, right? We can celebrate the firsts but we want to get to where diversity and inclusion is the norm. It's so great to feel that here. We can trust we've been hired in these roles because we're the best at our positions for this team, not to fill an HR requirement.
That is great. Do you any advice for women interested in getting into a career in football?
I think it's important to remember that the sport of football is no longer just for men. There have been female leagues (flag and tackle) for a while now. An important thing is being an easily approachable human. Whether you are male or female, your work, effort, relationships and comfortability you can build with the players and colleagues is what will move you along.
Do you have any mentors who've helped you in your career?
The mentorship aspect is so important because things come up throughout your career that will require you to ask for help or lean on someone else. I'm really grateful to have had mentors who are great humans and leaders beyond just being great dietitians. I've learned more from them from a personal and team development standpoint than anything else, and I feel like that's important because supporting one another in a team environment is essential to achieving the overall goal.
What's next in line of things you want to accomplish?
One of the most interesting moments I've experienced is achieving my dream of being an NFL dietitian. That was a huge wakeup call, like Wow, I really was able to accomplish this. I checked off a career goal by getting this position in 2019, then to achieve a Super Bowl was incredible. I don't know if it's my mentality or what, but I was standing on the field with confetti blowing and all I could think about was, We have to win another one. The reason I felt that was throughout the 2020 season, everyone bought in to one another and we were all working so closely. I don't think I've ever seen a more strongly connected team that truly bought into the motto for that season, "One Team, One Cause." That was the belief. We were all helping and able to depend on one another, and we were able to execute everything throughout the pandemic. That was the biggest goal, and I hope to take that feeling wherever my career might take me, along with helping athletes with their fueling and hydration needs.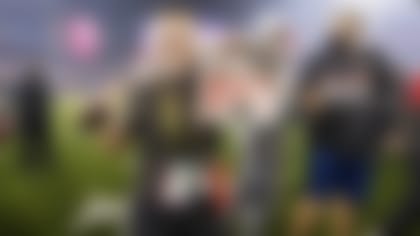 Not every team has a full-time dietitian in the NFL. Not every professional league in the United States has full-time dietitians for their teams. That's something I'm hoping to see continue within the career field, and I want to be a leader for women, so that one day it can be gender equal.
Lastly, what are you most proud of?
I think I'm most proud of helping others accomplish their own goals while I am accomplishing goals of my own. As I've been able to move in my career, I've seen players improve their health and help develop younger sports dietitians who now have full-time positions. I hope to continue to achieve both of those at the same time.
I'll add that during my time at the Bucs, we've made big transitions within our culinary department to make it more performance focused. We are very player-driven, and I've hired a high-performance chef who I was able to help recruit. We've expanded our department from having me as a full-time staff member and an intern in 2019 to now having my position, a second full-time dietitian on staff and two interns. I think one of the most profound things is to be able to step back and see the drastic changes we've been able to make from an ingredient utilization standpoint and how that translates to players wanting to eat the meals here at the facility. I think that speaks volumes for how we've been able to improve, and I'm so grateful to the support that we've had from ownership, our general manager Jason Licht, Bruce Arians and head coach Todd Bowles. They have put a lot of trust into us as a nutrition department to achieve good outcomes for our players and that's been huge. It also hasn't been possible without our performance team.