Women are rising up the ranks throughout professional football, earning positions of power in a space that for too long was ruled almost exclusively by men. We're seeing more and more women breaking barriers in the sport, but what are the stories beyond the headlines? Who are the women shaping and influencing the NFL today? Answering those questions is the aim of the Next Woman Up series. While the conversational Q&As are edited and condensed for clarity, this is a forum for impactful women to share experiences in their own words. Without further ado, we introduce:
Amy Sprangers, Seattle Seahawks
Position: Chief Revenue Officer
How did you get your start with the Seahawks?
Strong, genuine relationships have driven my entire career. To be successful in my role as Chief Revenue Officer, partnerships are essential, and that's how I got my start with the Seahawks. Before joining the organization, I was overseeing sales and marketing for Seafair, a festival in Seattle. People would ask me what I do the rest of the year because it's a three-week festival, but it actually takes all year to plan, gain revenue and execute the product that people see in just three weeks. Through that is where I first started in partnerships, sponsorships and building relationships.
One of my partners through Seafair said to me one day, "Amy, the Seahawks need you." And I said, "I love what I'm doing now." They repeated themselves, and sure enough, I got a phone call a few weeks later from the Seahawks saying, "We keep hearing your name everywhere. We would love to talk to you. Would you be willing to talk to us?" I've always been of the mindset to be open to opportunities, so even though I loved what I was doing, I thought, Wow, what an opportunity to come on board and be influential in rebuilding an entire brand as well as launching a new stadium. That was really exciting for me.
Can you take me through how your role has expanded?
In 2001, I started in our sponsorship department and I loved driving those conversations, sitting down with people and really understanding brand perspective. Asking questions like: What are your pinpoints? What are you trying to achieve? How can we help meld what we do by developing exceptional fan experiences to help you earn revenue? Having those multifaceted conversations, I just loved the relationship part of it.
Then we looked around to the beautiful building we had just built, now Lumen Field, and we had 30 or so future suite locations that had not been built out. We were waiting for the right time and the right market condition to sell them. We had a leadership change and our new CEO at the time came in, looked around and said, "I believe in our product. I believe in the strength of our market and the experience we're delivering. Amy, we're going to be hooked at the hip going out and getting these suites sold." I went, "Wait, what?!"
This was a really pivotal point in my career. I looked at the task and thought, All right, how do I look at a need that we have -- a really incredible revenue opportunity for the organization -- at a time when, in our market and across the country, people weren't building more premium or suite products?
They were downsizing them. This was the suite party era: taking multiple suite locations and putting them into one product because you couldn't move your individual suite locations. Well, we did the opposite. We put around 30 suites out on the market and sold them. We were able to do that by building genuine relationships, by going to potential buyers with a strong proposition, conviction and belief of what kind of experience we could deliver. We couldn't think of it as selling 18 seats and six parking passes because it was never going to be successful if that was the conversation. Instead, it was about how people feel coming to the stadium on game day. That's still true today. You hear all kinds of people talk about the battle of an at-home experience vs. being at the game. Game day at Lumen Field is unlike any other and I have been to almost every other NFL stadium in our league.
Our "12s" are our lifeblood and drive everything that we do. So when the team runs out onto the field and 69,000 fans are screaming and cheering and our "12" flag goes up, I get chills. I have them right now, talking about it. Working at the Seahawks and being able to deliver that impact is exceptional.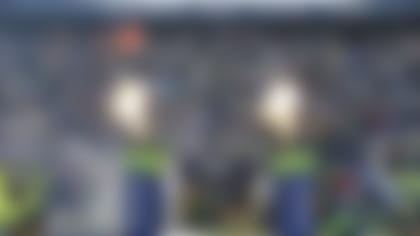 I love that. You've been fortunate that the Seahawks have only missed the playoffs six times since you joined the franchise in 2001. But when the team does have a losing season or misses the postseason, what kinds of challenges do you encounter?
When I first started, I didn't think our phones could accept incoming calls. I only thought we could dial out, so that's changed, thankfully. But you have to be very intentional with your strategy and planning for innovation and sustained success. Looking back to when we won the Super Bowl at the end of the 2013 season, our revenue acceleration from that success was intentionally planned a few years before that. You have to be ready as a team to understand what's in front of you, and when you can line preparation and strategy with on-field success and capitalize in your market and nationally -- which was a big shift for us -- you've created a model that works. We wanted that to be a sustainable track that we could look at to build revenue, and we were able to do that.
That makes sense. The Seahawks have had many superstars (and still do), but those faces of the franchise, like Russell Wilson or Pete Carroll, aren't going to be with the team forever. How do you plan for those transitions in terms of revenue?
That has to do with the spirit of the team. The Seahawks' identity is our connection to our community and our fan base. The "12" for us is an iconic symbol and we pay homage to that every Sunday by raising the "12" flag, but it is an incredible connection our team has to our community no matter who is on the field or in the front office. It's a constant connector that stands for excellence, innovation, commitment to inclusiveness and bettering our community. We've had so many big-name players throughout the years, but our connection is what keeps us relevant.
The stadium was renamed in November 2020. Can you walk me through the process of negotiating naming rights to an NFL stadium?
This is the most exciting part of my job. What I absolutely love the most are these comprehensive negotiations. Again, it really ties into the strength of your relationships. Most recently, CenturyLink, our naming rights partner, rebranded to Lumen Technologies. We met with their executive team to better understand what it was that was driving their rebrand. One thing that comes into play with that is national exposure, showcasing that gorgeous facility on national broadcasts, but there are many other factors, as well.
So many amazing things have happened at Lumen Field, so the synergies that exist between sport and, in this case, tech innovation, are endless in terms of storytelling. That's what is critical, making sure your partnerships come to life in a genuine and authentic way that's not manufactured.
I love the passion you have for your job. Have you received any specific advice that has helped you get to where you are?
I have had so many amazing mentors, specifically amazing men who have been influential in seeing the power, genuineness and value that I can bring to any conversation. What I think has really fostered in me now that I have a seat at the table -- and I'm grateful for it -- is a deep commitment to implore others to demand what they deserve. So many times, women don't speak for themselves or don't act upon their ideas. Leadership is about action, and I firmly believe you can lead wherever you are, whether you're at the table or trying to get there. You don't have to have the title to be a leader.
I was fortunate enough to moderate a panel discussion with Abby Wambach when she launched her book, WOLFPACK. Being grateful for what you have and demanding what you deserve was one of the topics. It's having that sense of confidence and worth, along with a group of mentors and teammates around you. I like to call mine kick-ass rock stars. They are my absolute rocks who I can go to with anything. They are honest, transparent and yet so bold in the belief of what can be achieved and what I can achieve.
I've worked really hard to get to a place in my career where my greatest impact is to be an inspiration to my team, shed light on their goals and shine a light on where they are at and what they are doing. To have that impact on somebody's career and life is awesome, and I feel a responsibility to do that.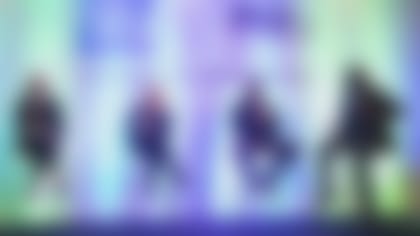 When I think about how to pay that forward, I want to see bold, accountable women who are part of -- and leading -- the conversation with an inclusive mindset and want to project that for young girls and boys to really understand that racial and gender diversity is so important at every level because representation matters at every level. We have to not just talk about it, but make it happen in how we hire and shape our organization. The Seahawks are incredibly successful because of the diversity and equality that we stand for and demand of one another.
Our senior leadership group is full of innovators. Coach Pete Carroll likes to use "Tell the Truth Monday," so win or lose, the team breaks everything down every Monday. We take that same approach in our front office because we always want to be getting better and delivering the best product and experiences for our fans and partners. You don't have to look any further than our owner, Jody Allen, and her commitment to innovation and the community.
Very cool. Speaking of women in the NFL, how have you seen the industry change in your 21 seasons?
I love that there has been a strong core of women in the NFL from its very beginning, but more and more, we are seeing the rich participation of female owners in a newly visible way that is powerful. Not only that, but we see it permeated throughout all facets of the game -- referees, coaches, athletic trainers and scouts. This is a critical movement of change that is inspiring, and it's making the NFL better and driving us forward.
There is still a lot of room to go. I'd love to see more women represented in CEO and president roles certainly, but I believe we're going to get there.
And finally, what's next for you in your career?
I want to run an NFL club. I want to be CEO and president and really drive impact. I certainly know how to drive revenue. I'm incredible in inspiring teammates and positive culture and creating an impact in the community. To be able to do that through a partnership with an incredible owner is absolutely what's next me for.