Women are rising up the ranks throughout professional football, earning positions of power in a space that for too long was ruled almost exclusively by men. We're seeing more and more women breaking barriers in the sport, but what are the stories beyond the headlines? Who are the women shaping and influencing the NFL today? Answering those questions is the aim of the Next Woman Up series. While the conversational Q&As are edited and condensed for clarity, this is a forum for impactful women to share experiences in their own words. Without further ado, we introduce:
Molly Higgins, Los Angeles Rams
Position: Executive Vice President of Community Affairs and Engagement
How did you get your start in a career in the NFL?
I had an opportunity to join the Rams back in 2002, so my 20th season with the team ended in a Super Bowl. That was pretty amazing. But my degree and background was in public relations, and when I joined the Rams, the position was corporate communications and community outreach. It was one department, so I dabbled into the community outreach efforts. I discovered it was my passion and what I really wanted to do. The opportunity to combine my love of sports and helping people in a strategic way was exactly what I wanted.
When we made the move to Los Angeles -- and knowing there are more than 5,000 non-profit organizations in Los Angeles alone, comparatively speaking to 200 or so in St. Louis -- I really wanted to focus all of my time on community. We were able to hire Joanna Hunter from the league office to come and handle corporate communications, so I was able to focus on community outreach.
My background in PR and communications really allowed me, early in my career, to be part of a lot of different parts of the business, to really learn and appreciate the interconnectedness of sports business and see the bigger picture. At the Rams, we call it the fly wheel. You have folks who are generating revenue in order to pay our players and help put a winning product on the field. With a winning team, we're able to make a big impact in the community, story-tell, grow the fan base and deepen fandom. Having those early years in corporate communications really showed me how every department, every person, contributes to the success of a franchise.
Prior to joining the Rams, did you ever desire to work in sports?
I grew up in sports and was an athlete. It was always my passion. Coming out of college, my dream job would have been working on public relations for the Denver Broncos, since I grew up a Broncos fan. I learned pretty quickly that if I wanted to work in sports, I had to start as an intern and work my way up. I then got the opportunity to join the St. Louis Rams as an intern. I really took a step back in my career and bet on myself. I knew I was early enough in my career that if this ended up being a terrible decision, I could course correct and make up that time. At the same time, I believed in myself and wanted to give it ago. Here I am 20 years later.
Can you describe what your job entails today?
My greatest responsibility is being that conduit between the community and the Rams. I spend a lot of my time meeting people in the community, including education and non-profit leaders, to understand the greatest needs and opportunities facing our community. I bring ideas back to our facility and really formulate a strategy on how to go about addressing those needs. Many times, that's taking opportunities to players and helping them find ways to make an immediate impact. Other times, it's coming back to the office and saying, "This is what the community needs and we have sponsors that want to join us to make an impact in this certain area."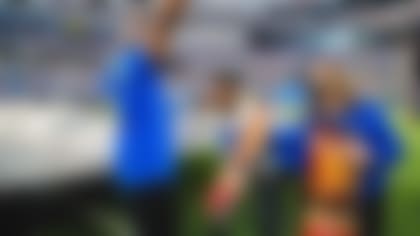 Another one of my responsibilities is putting our players in the best position to have success off the field and to guide them in that space. There are so many nonprofits out there, but some of them are operating at a more efficient level. Partnering organizations with our players is definitely one way we can make big impacts within the community.
With someone like 2021 Walter Payton Man of the Year Andrew Whitworth, who started his foundation in Cincinnati then moved to play for a new team, what is your role in helping a player transition to a new city in terms of community impact?
Andrew is one of my favorite success stories of all time. When he joined us in Los Angeles in 2017, I sat down with him in the cafeteria at our practice facility in Thousand Oaks, California. Typically, we talk to players about their passion points and interests, understanding that everyone's life journey is different, and we try to meet them where they are and try to pair them with things that will resonate. I remember sitting down with Andrew and I handed him a survey. I said, "Here are some of the areas of focus. Tell us what you're interested in." It was a long survey and he was checking all the boxes.
"Um, excuse me. I'm not sure if you understood what I was asking," I said.
He answered: "I know. I understood the task."
"Well, you're checking everything."
He replied: "That's because I'm interested in everything. I want to utilize my platform to the fullest and be as helpful and create as much change as possible."
I remember thinking, Oh my gosh. We got a special one here. I brought some opportunities to him and I gained his trust. Then we became very much thought partners and action partners. He called me last offseason and told me he wanted to do something really big in 2021 because it was going to be his last year playing in the NFL. He wasn't exactly sure what he wanted to do, but we collaborated to find something that fit.
His heart is so big and he's such a compassionate, generous person. To see him rewarded with the Walter Payton Man of the Year award -- and to be in the audience and hear him mention my name during his acceptance speech -- it's something I'll never forget. I always say to my team, "I don't do this work for awards." But that one hit different. To see Andrew rewarded on the biggest stage in our sport right before the Super Bowl when he was playing the Bengals in our home stadium ... It gives me chills still.
Wow, what a great story. Now I want to go back to when the Rams moved from St. Louis to Los Angeles in 2016. You mentioned the vast difference in non-profit organizations. How did you begin to approach the move from a community standpoint?
We were named St. Louis Philanthropic Organization of the Year in 2010, so when we moved to Los Angeles, Rams COO Kevin Demoff asked me what our charitable priorities were going to be once we moved. I told him I wasn't sure, and he was a little taken aback, like, "What do you mean? We have this successful playbook, so why don't we do what we've done in St. Louis?" I told him I wanted to respect the market because they are so different. I really wanted to take the time to embark on a listening tour and meet with education and non-profit leaders and community leaders to get a better sense and understanding of what their challenges are. Then we could go about formulating a strategy to better address those needs. He's a native Angeleno. I am not. And he said, "It sounds like a really sound strategy. I know you really well and I don't think you're patient enough for that. I think you're going to grow frustrated and overwhelmed."
I told him I firmly believe this is the only way and most authentic way to do it. I did not want to roll out our priorities from St. Louis and say, "This is who the Los Angeles Rams are." I wanted us to really listen, learn and respond accordingly. He said, "OK, you're right. I think that's the way to do it."
I probably spent the first year out on the road. Los Angeles is such a huge market, but what I found quickly was how interconnected it is. My first meeting was with the United Way CEO, and coming out of that meeting, she connected me with three others. There were a lot of doors open that way. My world and knowledge base expanded very quickly, and my desire to truly utilize this platform was growing stronger.
In 2016, I was 14 years into this position. I loved what we were doing in St. Louis, but the move to Los Angeles was reinvigorating from a professional perspective. I consider myself a constant learner and that opportunity is definitely here in Los Angeles because you're always talking to new people and uncovering new neighborhoods.
The Rams -- and specifically you -- have received a number of awards for your philanthropy work. What would you say is the key to your success?
A lot of credit goes to the organization. From owner Stan Kroenke to Kevin, GM Les Snead, coach Sean McVay, to the players, to the cheerleaders -- all of them understand the opportunity that we have to better the lives of others. A lot of teams say that, but frankly, it's sometimes a lot of lip service. Here I can honestly say it's part of our organizational DNA. When I get calls from our head strength coach saying I want to help with this Make-A-Wish opportunity or player affairs tells me a player wants to meet with me about getting involved in the community or our sponsorship team saying they are going to get me more dollars to help food insecurity ... One in five Angelenos is food insecure and that's just a terrifying stat. It really is a team effort. There is a department responsible for community impact, but it really is a shared responsibility. That's what makes this work so special, and that's what's so great about sports. You don't win individually. You win as a collective.
There's been a lot written about Coach McVay's "We not me" philosophy. It certainly is a football philosophy, but I really feel like it's an organizational one, too.
Since winning the Super Bowl in February, have things changed for you in your role? If so, how?
We definitely feel the enthusiasm. The requests are hot and heavy, whether it's player, cheerleader or mascot appearances, autographs, community partnerships, etc. I always tell my team -- and Kevin shares this sentiment, too -- is to thrive humbly and do not change. We're the same organization we were before we won the Super Bowl. We just want to take everything in stride.
What would you say is the most challenging part of your position?
The need in our community. There is such tremendous need, and when you're out in the community meeting these people and hearing their stories, it's hard because I want to say "yes" to everything. I want to change the world. I know that the problem with that is, if you try to be everything to everyone, it really dilutes your impact. That, to me, becomes transactional philanthropy rather than transformative. You really have to resist that urge, and sometimes you can be creative with how you help. We might not take on a big initiative with an organization but will try to take care of them with an autographed item that they can raise money with. It's tough. You never want to just show up for a quick appearance; you want to create a long-lasting relationship, and I think we've done a really good job at setting those pillars of priority. Much of them center around social justice and things that impact our communities of color disproportionately, including food insecurity, housing insecurity/homelessness, education inequities, community-police relations and mentorship. We do a ton of mentorship with kids, especially in under-resourced communities. The mentorship piece is really important to us.
Speaking of mentors, do you have any who have helped you in your career?
I've had so many -- many of whom know they are a mentor of mine and many of whom don't know I name them as a mentor. I think it goes back to the fact that I'm trying to constantly learn, and at the Rams, we have some of the brightest, most innovative folks, and I learn from them. I think you can find a mentor in so many different places. For me, I have a lot of mentors I meet in the community. There is so much wisdom and life experience that I learn in Inglewood and Watts in South Los Angeles. It helps me become a better human relations professional, a better human being, a more empathetic, passionate person. And it helps me to better understand issues facing our community.
What advice do you have for women who want to begin a career in the industry?
I get that question a lot, and I have been fortunate to be surrounded by people who saw the value in me as a human being, not just a female. I understand that's not the case for everyone. But I think we're at a really exciting time in sports where people are starting to truly value diverse opinion, life experience and perspective, and that's definitely the case with women. There are so many opportunities in front of us.
Dating back to St. Louis when we assembled our executive team, for several years, I was the only female on the executive team. Fast forward to now, there are five women on our executive team. Beyond that, there are a number of women leading departments. We're seeing doors open, and with the leaders we have at the Rams, I think people really value our contribution and what we as women bring to the table.
I've been fortunate to be in an organization that values and prioritizes diversity and inclusion. If I'm giving advice to a young woman, it would be to find a forward-thinking organization that's not going to put limits on you. If you're in an organization that supports you, the sky's the limit. But you do have to find the right organization.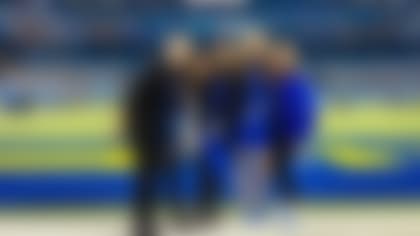 What's next in terms of what you want to accomplish?
I talk a lot about the Watts Rams, an organization that helps bridge the gap between communities of color and law enforcement that we took over in 2018. I thought we had something special back then, and now in 2022, we understand the power of the program. My dream is to begin to scale it across Los Angeles and make this a program throughout the nation. I hope that other sports teams -- in the NFL, MLB, NBA or any other league -- take this model and really implement it in their communities.
It is a youth football program, but that's just the tip of the iceberg. There are 125 kids in Watts Rams now, and we just sent them through a technology camp to expose them to careers and opportunities that they otherwise wouldn't have had exposure to. We really do want them to dream beyond their current reality. It's a program that resonates with all of our current stakeholders, from the players to coaches, sponsors and everyone in between. We get to wrap our organizational arms around them and not only offer our support in mentorship but give them more educational resources and address basic needs.
You mentioned there are 125 kids involved now in Watts Rams. How many were there when the Rams got involved?
It started as the Watts Bears, and I was invited down in 2017 to do a ride-along with law enforcement and learn about the program. At that point, they were two years in, and Watts Rams coach Zarren Thompson told me at that point they couldn't recruit 10 players because there was so much mistrust with law enforcement in the community. They would go door to door in the housing projects trying to tell the community members what they were doing with the program and why they were doing it. Many people were skeptical and didn't want to send their kids to be around law enforcement because of how they grew up and the world they lived in.
So last year when we taped the NFL commercial, which the Watts Rams were part of, we sat back and reminisced on the progress. Now they could field teams for 500 kids if they had more police officers and law enforcement to serve as coaches. When I talk about scaling the program, it's now possible with the support of the Los Angeles Rams' endorsement. In fact, the Watts Rams will be participating in the pregame Super Bowl championship moment ahead of our 2022 NFL Kickoff Game against the Bills. We're looking forward to sharing that with them.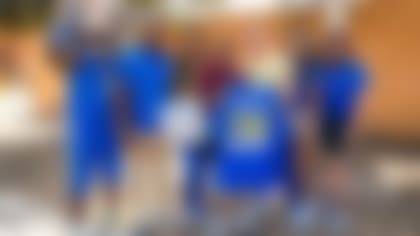 That type of growth is great to see in a program like that. The final question I have for you is: What are you most proud of?
I've touched on it throughout, but Watts Rams is one of our signature programs. Everything that it entails is truly a blend of youth football and social justice. The impact we're making on those kids is so profound. I hear it from those kids, their parents, the officers. It's that program that hits on everything.
I'm certainly proud of Andrew being named Walter Payton Man of the Year. He's the first player in Rams history to do that, and seeing him get what he deserves was really incredible. There's truly not a more special human being. There's so much good in sports and so many athletes are doing so many amazing things, and it's sometimes overshadowed.
It's also the support of community from the entire organization. I could go on and on. It just speaks to our culture of giving back and how important it is to all of us.