Women are rising up the ranks throughout professional football, earning positions of power in a space that for too long was ruled almost exclusively by men. We're seeing more and more women breaking barriers in the sport, but what are the stories beyond the headlines? Who are the women shaping and influencing the NFL today? Answering those questions is the aim of the Next Woman Up series. While the conversational Q&As are edited and condensed for clarity, this is a forum for impactful women to share experiences in their own words. Without further ado, we introduce:
Phoebe Schecter, Sky Sports
---
---
You've worn a lot of different hats in football. When did you first get involved in football, and how did that turn into a career?
I am originally from Connecticut and moved to the United Kingdom about 11 years ago to work with horses. Because I have dual citizenship, I felt like it was a great opportunity for me to work outside of the United States, and I hate to say that I never was big into football growing up, because working with horses is 24/7. When I moved, I was 22, on my own and wanted to find a social group, meet friends and get a little bit of the American culture, if I'm being honest. I saw an ad on social media for an American football team in Manchester, where I was living. When you're out of your comfort zone, you are much more willing to take risks, so I just went for it. I tried out, having never played contact football before, and made the team. Because of my dual citizenship, I am eligible to play for Great Britain, and I have been playing for the national team for 10 years in tackle and flag football.
After my playing journey began, I knew I couldn't play forever -- though I am still playing at 33 years old -- so I started looking at my options for coaching. I thought it could be a way for me to give back to the sport that's given me so much. I got involved in youth coaching and later at the adult, club or senior level. I ended up at the NFL Women's Careers in Football Forum, where I first met people like Buffalo Bills owner Kim Pegula, former NFL executive Scott Pioli and so many other amazing people. They were so genuine about what it's really like to work in the NFL. I was asked in one of the interviews where I saw myself a year from then. I said, "I want to be an NFL coach." And it was almost a year later, and after applying for the Bill Walsh Diversity Fellowship, that I was with the Buffalo Bills. It was madness.
What a fun journey. How did that opportunity segue into a broadcasting career?
I did that internship with the Bills during training camp in 2017, and after that, I was a volunteer coach at Bryant University (Rhode Island) for one season. The Bills wanted to bring me back for the following training camp before transitioning into a season-long role that went into OTAs, but between Bryant and going back to the Bills, I began working for NFL UK at the NFL Academy. I felt like that was where I could make the biggest impact in young people's lives, and Bills head coach Sean McDermott was super supportive and understanding of my decision.
I loved coaching. I loved being around the elite mindset of the NFL and in a Bills organization that really wanted to be the best version of itself, not just for the people in the building but everyone else. I think we've really seen that come through in the last few seasons. When I came back to the U.K., I knew I still wanted to coach, but I've always had this itch to do more. The NFL isn't limiting by any means, but when you're in an NFL season, you can't even think about doing anything else. I felt like I wanted to impact more people. I do still coach our national team, and though it's not the NFL, I still have the opportunity to impact people's lives from a coaching perspective.
All along, I wanted to help be a connection between the U.S. and the U.K., and I don't think I knew what that looked like until I got into broadcasting. I began doing broadcast when the pandemic hit. I was doing one small show each week on Sky Sports for casual fans. Then one Sunday morning during the pandemic, the main host of the Sunday show got sick. They called me and another woman, Hannah Wilkes, to fill in, and it was the first time they had women on the show, and two women hosting it, for that matter. It was that stay-ready mentality. I'll be honest, we had no idea what we were doing, but we figured it out. I love that I can take what I've learned as a player and coach and share that with a foreign audience that doesn't have access to a certain level of expertise.
What is your favorite part of the game to coach?
With Buffalo, I was with defensive backs and tight ends. Learning the whole picture is amazing, but linebacker and outside 'backer/nickel position are my heart. It's read and react, and you have to play with passion and attitude and aggression. I love that element of it. I love the schematics and thoughtfulness of offense, and the players get to be themselves within the confines of the offense. But on defense, players get to leave it all out on the field.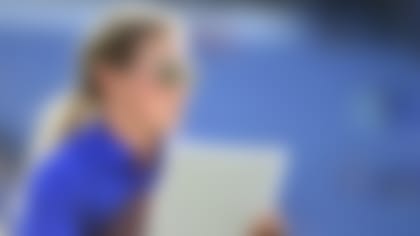 Looking at your role as a broadcaster, what does your prep week look like? And what is your role during NFL game broadcasts?
I never realized how much preparation goes into this job before I started doing it. You're looking at a minimum of 16 hours of prep each week, because you never want to be in a position where you don't have an answer for something. Overpreparing is so key. I am doing a lot of research during the week. We have a Tuesday show and another show called "Her Huddle," which is all about women in the NFL. Then on Sundays, we do a one-hour pregame show and then the game. We highlight a lot of storylines and discuss a lot of the people in the game, because our audience likes to learn about the people, so they can feel a connection between them and the game.
We generally do three games, two that are live in studio and a third that is a handover because it's about 1 a.m. local time at that point. Viewers will watch the same feed that viewers in the U.S. will see, with a play-by-play done by Greg Olsen and Kevin Burkhardt, for example. But when there are timeouts, two-minute breaks, halftime or other breaks in the game, our viewers will see us in the studio.
When the game is in Europe, we build our studio on site, with the game playing in the background. The broadcast cuts to us more often because the game is local. We still use the network play-by-play, but we have more commentary and analysis specific to the U.K. and rest of Europe.
Let's discuss your playing career. What was the thing that drew you to the game?
I was 22 and on my own, so it really was the aspect of a social group. I am still close to a lot of the girls I met on that first day. It's so special. Football family is a real thing, especially in the women's game. I found that football is a type of meditation for me. I don't think about work. I just go there and get to be active, physical and ultimately, exactly who I am. Football offers that for anyone, regardless of your shape, size and background. There is a place for you, and you get to own who you are.
As a player, I am moving back toward strong safety as I get older in contact football. I used to play close to the line of scrimmage at linebacker when I was younger. In flag football, I will play anywhere the team needs me.
Back in June, the NFL and British American Football Association announced a partnership that will help grow flag football in the U.K. What were your initial thoughts upon seeing that news?
I have a lot of roles within flag football, so to see the connection between the British American Football Association and the NFL is massive. As you know, having the shield behind you gives flag football that gravitas. For these two organizations to come together is a pivotal next step in terms of building toward potentially being part of the 2028 Olympic Games. It shows the world that flag football is here to stay.
What would you say is the most challenging part of your job?
Learning how to be authentically yourself is so key. Ultimately, I think people want to watch you because of who you are and your team's chemistry. If you're able to be yourself, you never really feel like you're working. You're just chatting football with a bunch of friends. There's been a learning curve having just started broadcasting a few years ago, and I learn something new it seems every time I am in the studio. I've made mistakes, but it's about owning it and getting better.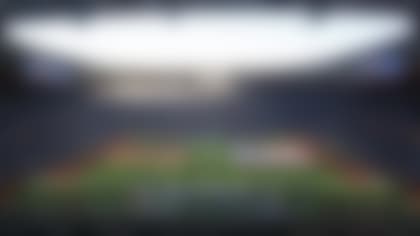 Do you have a favorite moment of your time as a broadcaster?
We went to Munich, Germany last year for its first NFL game. I worked in Germany with the NFL Academy for a while, so I've known there was a massive following there. But to actually be there in person, experience it and feel it, it was humbling to think there are so many people who love this sport. The entire crowd was singing "Take Me Home, Country Roads." It reverberated through you, and you couldn't help but feel the passion and emotion of everyone at the stadium. Tom Brady was playing, and I'm just so grateful to be part of that historic game.
What a great experience. What would you say is next for you in terms of what you want to accomplish?
I wear so many hats in this world, but it's all related. I want to grow flag football internationally. I am one of the NFL Global Ambassadors for the sport, so to get flag in as many countries as possible and give everyone an equal opportunity to play the sport would be huge.
I also want to continue to develop as a broadcaster and challenge myself. I would ultimately love to get back over to training camp to continue my self-development, because that's been a big part of my journey so far.
What would you say you're most proud of?
I'm proud of going to Buffalo and earning my spot. The door may have been held open for me, but I had to earn my way through that door and continue to make other doors open. I am able to acknowledge that now. Imposter syndrome is a real thing, so to come out on the other side and know the value I bring to an organization, I'm very proud of that. I would have never done any of this before I moved to England. Taking advantage of these opportunities and getting comfortable being uncomfortable is something I'm proud of. It's opened so many doors for me and made me into who I am today.
Lastly, I want to talk about mentorship. Do you have mentors, and what advice have you received?
Two people come to mind: Scott Pioli and Sam Rapoport, NFL senior director of diversity, equity and inclusion. Sam has always been so keen on me being me in an NFL environment. She's taught me that if you are honest and humble, admitting when you don't know the answer, that it can be been a massive part of your growth. That authenticity has been key for me. With Scott, he has always been someone who sends the elevator back down to help others. He is always encouraging others to give back and challenging me help the next generation of women. To have them both in my corner and life is amazing.
What advice do you have for a female seeking a career in football?
Chase your passion and let as many people as possible know what you want to do. The more people who know what you want to accomplish, the more who can help you achieve those goals. Don't be afraid to ask questions, because none of us have gotten where we are without the help of others.