Women are rising up the ranks throughout professional football, earning positions of power in a space that for too long was ruled almost exclusively by men. We're seeing more and more women breaking barriers in the sport, but what are the stories beyond the headlines? Who are the women shaping and influencing the NFL today? Answering those questions is the aim of the Next Woman Up series. While the conversational Q&As are edited and condensed for clarity, this is a forum for impactful women to share experiences in their own words. Without further ado, we introduce:
Alexis Dotson, Washington Commanders
Position: Player Development Assistant
---
---
How did you get your start in a career in football?
I got my start at Howard University, where I am currently a graduate student getting my Ph.D. in higher education, leadership and policy studies. I am in my fourth year of the program, but when I started this degree three years ago, I had reached out to an advisor, Dr. Brianna Clark-Williams, who helped get a meeting set up with Paul Bowden, Howard's senior associate athletic director for student-athlete support services. I wanted to start a player development program because that was my interest and passion, so I ended up mapping out a curriculum, tried it out with the Howard football team and it stuck. Then in 2022, I was invited to the Women's Careers in Football Forum, which is where I met Commanders head coach Ron Rivera.
I had met my current boss, Commanders senior director of player development Malcolm Blacken, prior to being invited to the women's forum. At the time I was trying to grow the program I had started at Howard, so I spent time picking the brains of Malcolm, Jacques McClendon, the former director of football affairs for the Los Angeles Rams, and Dior Ginyard, an NFLPA executive. All of those connections helped me get invited to the women's forum. It was still a virtual event at the time, but I made sure to send a message to coach Rivera over Zoom, introducing myself and thanking him for being an advocate for player development off the field. Then at 3 p.m. that same day, I got a phone call from him asking if I had any interest in a player development internship with the Washington Commanders. The rest is history from that point.
Is football a sport you always wanted to work in? Or what drew you to football specifically?
I am a former athlete myself. I played softball at the University of Arizona, and one group I talked to a lot was the football team. We had good relationships in the academic center and around campus. I wouldn't say I always wanted to work within football, but I wanted to have an impact on athletes in general and, well, football has a lot of athletes. But I'm open to helping any athlete.
That makes sense. What did your internship entail?
I was very fortunate to join an organization that had an "OG" in player development, Malcolm Blacken. He's been in the game for about 10 years with player development. I started that internship a week before the 2022 NFL Draft, so I was able to sit in on top-30 visits, observe the entire draft process, go over any curriculum and be part of rookie school during OTAs. Malcolm did a great job introducing me to people and allowing me to slowly create intentional relationships. Early on I became the passport lady, helping one or two players get their passports before everyone started coming to me. It helped me build trust with our players and let them know I am someone they can come to for help.
I didn't travel to away games last year, but during home games, I helped take care of our players on injured reserve, the family room and God forbid if someone got hurt in the game, I would assist with taking family members down to the locker room.
Now serving as the team's player development assistant, how has your role expanded?
I have more responsibility now. Last year, I mainly observed during the top-30 prospect visits whereas this year I interacted with the players, asked questions, went to the dinners and was a big part of the conversation. I'm at the table now and have a voice in the conversations. I also am the point of contact for our players' family members.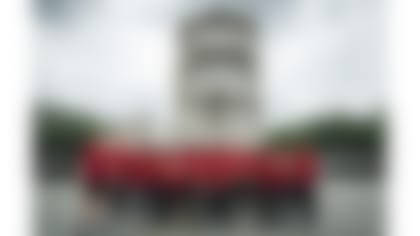 What is the busiest time of the year for you?
The busiest times for me are OTAs and training camp. During OTAs, we are trying to take care of any curriculum or programming, which includes everything from media to social responsibility to financial literacy. We're trying to hit those things as quickly as we can with the rookies. We also keep the first-year players for one week after OTAs to have a little more time to help them acclimate to life in the NFL. We get to do some cool things like taking them out on a Washington D.C. open bus tour. One thing I always tell them is to make sure they understand the history, culture and who they are representing in the nation's capital. We take them to the Lincoln Memorial and have them stand right where Martin Luther King Jr. stood when he delivered his "I Have A Dream" speech. I can still see a lot of their faces from that moment. It's powerful.
Training camp is busy for everybody, let's be honest. I am making sure that operationally things are running smoothly, trying to help players limit any distractions and helping family members. At the end of the day, you don't want to hear that we're not taking care of the players, so we are always working to keep the main thing the main thing -- and that's playing football.
It sounds like you have a lot of responsibilities. What would you say is the most challenging part of your job?
It's hard to pinpoint one thing. My job is challenging, and that's what I love about it. It's something new every day, and that's why we rely on teamwork. It makes it easier to tackle challenges because we're willing to reach out to others in different departments to figure challenges out together. There is no one challenge that comes to mind, but that's what keeps my job exciting.
What is next for you in terms of what you want to accomplish?
To be honest, I am very passionate about player development and love learning about people. First of all, I would love to continue to grow in this position into a coordinator, manager and eventually a director so I could run my own department. Coach Rivera and Malcolm Blacken deserve a lot of credit because I am the first full-time female in player development at the Commanders. I am fortunate to learn from other departments that help me grow in my role. I'm learning so many things I wasn't exposed to before. Overall, it's about leveling up in the space I'm in.
Do you have a favorite moment from your time with the Commanders?
Last year, Brian Robinson Jr. was involved in a shooting incident, and watching him get back on the field in Week 5 and be in his element was an incredible feeling. I was up in a suite with some other players and we all got chills watching him run out onto the field in his first NFL game. Watching him recover and after having conversations with him in the facility, it was an amazing moment to see him playing. He was also part of my first rookie class, so that made it special as well.
Let's turn to mentorship. Do you have any mentors and what advice have you received from them?
I have so many mentors, people who have impacted me and helped me get where I am today. I'd like to start off in college with Syndric Steptoe, a former NFL player who also played at the University of Arizona. He worked in the university's C.A.T.S. Life Skills Program after his NFL career ended and he introduced me to life outside of being an athlete. He also introduced me to athlete development.
Another person who played such a major role in my career is Sabrina Benedict-Monteverde, a learning specialist at Arizona. I wasn't an assigned student-athlete to her, but man, the impact she had on me is huge. I try my best to model my work on how she carried herself with athletes and football players. She was the one person in that building who could get through to anyone, no matter the circumstance. I still keep in touch with her and strive to be like her.
Another two are Paul Bowden and Howard football coach Larry Scott. They are very intentional about hiring women in certain positions. Janice Pettyjohn was the first female hired to a full-time position for the football program, and they hired her. They are great mentors to have in my corner.
There are so many others who have been trailblazers for women in football. Malcolm Blacken and Ron Rivera have been huge for me. We have a decent amount of women here, and that's a testament to coach Rivera. He has been involved in the women's forum and it's great to see him and others leading the way at the Commanders and across the league.
What advice do you have for women interested in a career in football?
The biggest thing is to be your true, genuine self and not being afraid to be that. One of our former coaches, Chris Harris, who is now with the Tennessee Titans, talked to me about making connections. He said everybody always talks about who you know, but it's not just that. It's also who knows you. How are people supposed to speak on behalf of you in rooms you may not be in yet if they don't know who you are? It's important to be yourself when building relationships. Don't be afraid to talk to people and enjoy the process.