Team-builders in the NFL today are wheeling and dealing in ways their predecessors likely never would have dreamed of. What drives some to take big swings? And how is it paying off on the Super Bowl stage?
Thomas Dimitroff heard the sage words of advice, the concern in his mentor's voice -- and then he made the bold choice to ignore all of it.
April 28, 2011, has been well-documented in terms of the phone conversation Dimitroff, the Atlanta Falcons' general manager at the time, had with his old boss, New England Patriots head coach Bill Belichick, as the first round of that year's NFL draft neared. Dimitroff had sought Belichick's feedback on a potential blockbuster trade that would move the Falcons into position to take Alabama wide receiver Julio Jones. Belichick opposed the idea of gambling so heavily on a wide receiver, telling his friend the decision could taint his entire career.
Dimitroff ultimately listened to his heart and later made the controversial trade, swapping five picks with Cleveland (including two first-rounders) for the right to select Jones sixth overall. That risk sent shock waves throughout the NFL landscape and made Dimitroff an easy target for immediate scrutiny. The league simply wasn't built for such an outside-the-box approach then. In today's NFL, though, few observers would think twice about a GM being so bold in his attempts to build a champion.
Asked about that trade recently, Dimitroff, who now is the CEO of the analytics company SumerSports, said, "When I talked to Bill that day, I told him that he'd always taught me that you know your organization better than anybody else. When I went against his advice, that was an evolutionary moment for me."
Building a winning football team used to be primarily about following a deliberate process. Now it's largely about the same lesson Dimitroff learned during his tenure in Atlanta: Taking big swings to assemble your roster is the new way of doing business. Today, plenty of GMs eschew playing it safe, operating with a level of aggressiveness that used to run so counter to the position -- and as we've seen in the 2022 playoffs, it has led to success.
Five years ago, the Philadelphia Eagles won Super Bowl LII. Since then, they remade themselves via a dizzying series of moves, including the decision to trade away the highly drafted quarterback (Carson Wentz) who helped drive that championship season in 2017. Now they stand on the precipice of capturing another Lombardi Trophy when they face the Kansas City Chiefs in Super Bowl LVII.
The team Philadelphia edged out for the top seed in the NFC has also not been shy about revamping its roster. In 2021, the San Francisco 49ers gave up three first-round picks and a third-rounder to move up and select quarterback Trey Lance third overall. The plan was to have the North Dakota State product ultimately replace Jimmy Garoppolo, the same veteran who led the 2019 49ers to the Super Bowl. Thanks in large part to an early-season injury in 2022, Lance has started just four career games -- but Garoppolo and rookie Brock Purdy kept things on track this season. And, of course, the QBs were buoyed by the midseason acquisition of running back Christian McCaffrey. The Niners sent four draft picks to Carolina for the former Pro Bowler -- and they won 12 of their next 14 games. If Purdy hadn't suffered a torn UCL in the NFC title match, San Francisco might be playing on Super Bowl Sunday instead of Philadelphia.
"Years ago, you'd get the chance to draft five quarterbacks and hire five coaches if you were the general manager. That's not the case anymore." -- Thomas Dimitroff, former GM
A glimpse at the rest of the playoff field reveals plenty more examples of successfully active organizations. There are teams that made blockbuster free-agent deals with huge salary-cap implications down the road (that would be Buffalo's decision to sign 33-year-old edge rusher Von Miller to a six-year, $120 million contract; Miller racked up eight sacks before going down with a torn ACL in Week 12). Others became aggressive near the trade deadline (the Ravens picked up middle linebacker Roquan Smith from the Bears, while the Vikings acquired tight end T.J. Hockenson from the Lions). A select few capitalized on the financial freedom that comes with having starting quarterbacks on rookie deals (the Dolphins, Jaguars, Bengals and Chargers all made significant personnel moves last offseason). Hell, the Seahawks made the playoffs after jettisoning their franchise quarterback, Russell Wilson, in a trade to Denver, where he delivered the worst season of his career.
"It's about right now," said Rams scouting consultant Ray Farmer, who was the Browns' GM in 2014 and '15 before joining Los Angeles in 2017. "Nobody has the time to spend five years building your team. You have to figure out how to get your quarterback and your other players. And if you don't win now, you're fired."
This sentiment has come to pervade the league over the past few years, creating widespread urgency across the industry. Decision-makers in previous decades relied heavily on the draft, spent years hoping for a franchise quarterback to develop and did their best to manage salary-cap space while avoiding decisions considered too high-risk. Sure, you might find a franchise doing something that shocked the league -- like the 1989 trade that sent Herschel Walker from Dallas to Minnesota for eight draft picks and four players, or Mike Ditka's infamous decision to deal all of New Orleans' available picks in the 1999 NFL Draft (plus two more in the 2000 NFL Draft) to Washington to select Ricky Williams -- but those moments were rare.
"It's definitely a marked change," said Bill Polian, a Hall of Fame executive who served as GM for Buffalo, Carolina and Indianapolis during his career. "And I think there are a couple of things that have factored into it. The situation with COVID-19 led to teams having bigger practice squads, so there are more movable parts now for general managers. But the larger issue is the expansion of the salary cap. There's so much money coming into the cap over the next three to four years, that there's just more leeway. In my day, we had to account for every dollar and be right on every decision. Now there's more room for error. Just look at the Rams' success last year."
Farmer saw firsthand how much an aggressive approach can transform a team into a champion. When he lost his job with the Browns, he took a year off before deciding to accept an offer from his good friend, Rams GM Les Snead, to join that franchise as a consultant. Farmer listened every day as Snead laid out his vision for turning the Rams from a bottom-feeder into a championship contender. The foundation of that strategy centered around worrying less about hoarding top draft picks and more about using that capital to find veteran difference-makers.
The Rams spent the next five years making a number of high-profile acquisitions:
The Rams' most noteworthy move came in 2021, when Snead traded quarterback Jared Goff (who had been the first overall pick in the 2016 NFL Draft) to Detroit, along with a pair of first-round picks and a third-rounder, for quarterback Matthew Stafford. It didn't matter that Goff had played in two Pro Bowls and led the Rams to the Super Bowl just three years earlier. The Rams considered Stafford the missing link in their search for a championship, and -- after adding Von Miller at the 2021 trade deadline and signing wide receiver Odell Beckham Jr. after Cleveland waived him -- Los Angeles claimed that title in Super Bowl LVI.
Even though the Rams suffered through an injury-plagued 5-12 campaign this year, their belief was that the all-in approach was vital. The franchise had gone 13 straight years without a winning season (2004-2016) before Snead, who has been the GM since 2012, decided it wasn't worth waiting on first-round picks to save the day anymore. If Los Angeles keeps its first-round pick in 2024, that will mark the team's first Day 1 selection since Goff.
"The amount of energy and effort you put into the top of the draft is enormous," Farmer said. "When we started making these deals, we were able to be more focused on the guys in the middle and late rounds of the draft. You don't really care where a guy gets drafted because it's only the performance that gets rewarded. And when you get the right 53 guys, nobody cares about the acquisition process."
To understand how much the job of roster-building has changed, you first have to go back a bit to remember what the NFL was like in the past. The general manager position in the 1980s and 1990s was defined by shrewd, pragmatic executives who often had the benefit of time to execute their visions. George Young held the GM job for the Giants from 1979 to 1997 and hired five different coaches in that span (including Hall of Famer Bill Parcells). Bobby Beathard, who just passed away this week, ran the personnel departments in Washington and San Diego for 11 seasons at each post. Powerful figures like Tex Schramm (Dallas), Ron Wolf (Green Bay) and Polian erected consistent winners in their own respective cities.
That was all before the NFL changed in considerable ways. The arrival of free agency and the salary cap in the first half of the 1990s made the job of GM more complicated. The more success some head coaches attained after winning Super Bowls -- as was the case with dominant figures like Parcells, Mike Holmgren and Jon Gruden -- the more they wanted to control the personnel decisions. Finally, new-age owners found it much harder to be patient with teams that couldn't win quickly, so both coaches and eventually GMs faced the realization that they might have two or three years to deliver a contender.
Of the 32 teams in the league, 29 have a hired GM on staff (with the exception of the Patriots, Bengals and Cowboys), and of those, 14 have hired new GMs over the last two years. The Tennessee Titans actually fired GM Jon Robinson midway through this season, his seventh on the job … and that team had won two consecutive AFC South titles and reached the AFC Championship Game in the 2019 campaign.
"Years ago, you'd get the chance to draft five quarterbacks and hire five coaches if you were the general manager," said Dimitroff, whose tenure in Atlanta lasted 13 seasons, from 2008 to 2020. "That's not the case anymore. The fact that Jon Robinson got fired during a winning season (at the time) this year is unbelievable. This NFL has long been known as the 'Not For Long' league, but it's more that way than ever before. These guys can't sit on their hands. They have to go for it."
A current NFC GM agreed with that sentiment, saying, "It used to be that if you wanted a third-round pick for a player, the other team might say they need that pick because they were focused on development. Now they're looking at the options at their disposal. It's becoming more like the NBA, where teams are constantly trying to find ways to get players. And teams are more willing to do deals, because there's more trust. It's easier to feel good about doing business together when both teams feel like they're getting something out of it."
Of all the variables that have led to more aggressive deal-making -- which includes practice squads expanding from 10 players to 16, a salary cap that continues to swell thanks to massive broadcasting deals (the cap was $208.2 million this season and will jump to $224.8 million next season) and the trade deadline moving in 2012 (from the Tuesday after Week 6 to the Tuesday after Week 8) -- the most critical has been enlightened thinking about franchise quarterbacks. The 2011 collective bargaining agreement established a rookie wage scale, meaning teams no longer had to negotiate contracts with first-time pros. Before that point, a mistake on a highly drafted player, especially a quarterback, could capsize a team's salary cap. After that critical juncture, the consensus was that the most sensible way to operate was by betting big on talented, young quarterbacks before their rookie contracts expired and teams had to pay substantial long-term extensions.
"It's becoming more like the NBA, where teams are constantly trying to find ways to get players. And teams are more willing to do deals, because there's more trust." -- NFC general manager
The teams that have enjoyed that advantage have typically been the boldest in recent years when it comes to making personnel moves. The Eagles won their championship in 2017 after building up the supporting cast around Wentz in his second season -- so much so that they mounted their successful playoff run with Wentz's backup, Nick Foles, after Wentz suffered a season-ending knee injury. The Chiefs spent heavily -- paying big money for wide receiver Sammy Watkins, defensive end Frank Clark and safety Tyrann Mathieu -- to ensure quarterback Patrick Mahomes had everything he needed to lead that franchise to an eventual win in Super Bowl LIV. Of the eight teams that reached this year's Divisional Round, only three started the season with quarterbacks who weren't still playing on their first contracts (Buffalo, Dallas and Kansas City).
When asked about the need to capitalize while quarterbacks on your roster remain cheap, the unnamed NFC GM said, "There have been a number of great quarterbacks who've won Super Bowls. But just because you have that great player, it doesn't guarantee that you'll win the Super Bowl. It's hard to put together a roster when you're limited by the salary cap. And you still need a team to win a championship."
"There used to be a time when you'd see a team like Washington draft Robert Griffin III in the first round and then take Kirk Cousins later in the same draft," said Deryk Gilmore, an agent who represents numerous players along with former general managers like Farmer and Ryan Grigson. "That's because they were going to develop Cousins. The Packers spent three years developing Aaron Rodgers. Now look at (New York Jets quarterback) Zach Wilson. He's got, what, two years to develop? General managers don't have that luxury anymore. Les Snead took the approach that they couldn't wait for Jared Goff to develop any longer. Even though Goff played great in Detroit this year, the Rams got a championship out of it."
This brings us back to the Eagles, who are hoping to accomplish something similar with quarterback Jalen Hurts. Like the Rams did with Goff, Philadelphia gave Wentz a massive extension after his third season (a four-year, $128 million deal with $107.9 million in guaranteed money), then traded him two years later. Wentz (the second overall draft pick in 2016) lost his job both because of turnover issues and injuries, but the bigger factor was the presence of Hurts, whom the team selected in the second round of the 2020 NFL Draft. The more Hurts developed into a promising quarterback (he turned into an MVP candidate this year), the easier it was for Eagles GM Howie Roseman to feel comfortable dealing Wentz. The Colts ultimately gave up a third-round pick in 2021 and a first-round pick in 2022 for a player who only lasted one season in Indianapolis before being traded to Washington last offseason.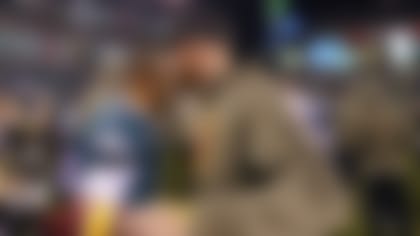 The 2021 third-rounder was packaged (along with the 12th overall pick) in a trade with the Cowboys that allowed the Eagles to select receiver DeVonta Smith 10th overall that year. (Smith put up 1,196 yards and seven scores on 95 catches this season.)
The 2022 first-rounder (No. 16 overall) was dealt to the Saints in a pre-draft trade last April that returned an assortment of picks from New Orleans. Roseman wound up shipping one of those picks, the 18th overall, to Tennessee for wide receiver A.J. Brown, who had a career year and broke the Eagles' record for single-season receiving yards (1,496). (That swap with the Saints also netted Philadelphia two additional future high-round choices: No. 10 overall in 2023 and a second-round selection in 2024.)
It was only two years ago that the Eagles managed to win just four games, prompting the firing of Doug Pederson, who was replaced by Nick Sirianni. There's little chance Roseman could have set Philadelphia up to return to the Super Bowl so quickly without the courage to move Wentz in the offseason that followed. Even more critical was the obvious buy-in from owner Jeffrey Lurie. The Rams pursued Stafford, Miller and Beckham in 2021 because owner Stan Kroenke had a similar urge to do whatever it took to claim a Lombardi Trophy. For years, Dallas owner Jerry Jones embodied the type of hyper-aggressive billionaire who wasn't afraid to take substantial risks to win big. Now he has plenty of company.
"If a general manager understands the expectations of the owner and the owner understands what the general manager needs to do to build a team, then it will be a success," Dimitroff said. "That's important. When I was in Atlanta, (Falcons owner) Arthur Blank was categorically behind that decision to trade up for Julio. He'd always been aggressive in his business dealings and he felt the same way about football. I knew I was going to take a beating publicly, but I also knew my owner was behind me."
That deal for Jones obviously worked out in the long run for Dimitroff. In Jones' 10 seasons with the Falcons, he made seven Pro Bowls, broke the franchise career records for receptions (848) and receiving yards, (12,896) and helped Atlanta reach Super Bowl LI. Just as importantly, he became a prime example of how much the NFL was changing. Dimitroff made that trade for one simple reason: He was tired of watching other teams beat his squad with elite playmakers, and he saw the value in landing one of his own.
That is emblematic of what this league is becoming with each passing year. There are still franchises that choose to remain more conservative and build through the draft -- the Packers and Steelers are the most noteworthy of that group -- but they're feeling more like outliers these days. The Bengals have never been known for lavishly throwing money around, and they've spent the last two offseasons bolstering their defense and offensive line through free agency. This past Sunday, they played in their second consecutive AFC Championship Game, falling just short of a second straight Super Bowl appearance.
"There are definitely more buyers and sellers now," one AFC personnel director said. "You've got teams trying to put themselves in position to get a big name and teams looking to unload them. Once one team gets aggressive, another team joins in and then you start to see an arms race. That's what happened in the AFC West last year, when all those teams were loading up to try to beat the Chiefs."
The downside of such aggressiveness is that it doesn't always work out. The Chargers, Raiders and Broncos made several splashy moves last offseason, but the Chiefs still won their seventh consecutive AFC West title and will be playing in their third Super Bowl in four seasons. (Kansas City, it should be noted, has been plenty busy even after committing significant cap space to Mahomes on a massive extension, rebuilding the offensive line and skill-position group around the quarterback.) The Colts bet on aging quarterback Matt Ryan and wound up benching him and firing head coach Frank Reich. The Dolphins, after paying big money for stars like wide receiver Tyreek Hill and left tackle Terron Armstead, limped into the postseason and lost in the Wild Card Round as quarterback Tua Tagovailoa was mired in the concussion protocol.
Those frustrations are real, but that's part of taking risks. They also aren't likely to dissuade this era of decision-makers from trying to wheel and deal their way to a championship. The competition to build quickly has reached the point that, as Farmer said, "There are more players in the market now. When we started doing it, you had to barter a lot more. Now there are more teams doing the same thing."
"General managers are just a lot less risk-averse today," Dimitroff said. "You look at people like Howie Roseman and Les Snead making big moves with their quarterbacks and they're surviving and thriving. Realistically, every GM is looking two years out now when building a team. They may try to look out three years, but if they're going that far down the road, they might not be around to see it come together. So more people are trying to make sure they go after it. If they do go out, at least they're doing it their way."
Editors: Ali Bhanpuri, Tom Blair, Brooke Cersosimo, Gennaro Filice
Illustration by: Albert Lee