Whatever uniform they're wearing, whatever circumstances they're facing, these quarterbacks are ready for anything -- from supporting the starter on the sideline to winning games at a moment's notice.
EAGAN, Minn. -- The Minnesota Vikings offensive linemen settled in for their weekly dinner at the Kyndred Hearth restaurant last Thursday night, fully aware that the meal would be even more enjoyable with the team riding a four-game winning streak. They perused menus that featured hanger steaks, pork belly and wood-fired pizzas and chatted about their personal lives before noticing quarterback Joshua Dobbs strolling into the dining room. He quietly walked over to the group and asked to join in the fun. It is strange that he requested permission, given that Dobbs was most certainly welcome, especially after the weekend he just had.
It had been four days since Dobbs led the Vikings to a 31-28 victory over the Atlanta Falcons. It had been nine days since he joined the team following a trade with Arizona. It clearly impressed all the Vikings that he could play that well in a backup role without any significant preparation. He was just as comfortable pulling up a chair and jumping into friendly banter with his new linemen, who all knew he was staying in a room upstairs at the Omni Viking Lake Hotel.
"He just came in and sat down and started chopping it up with us," said Vikings guard Dalton Risner. "You hear about the journey he's had in terms of being in Pittsburgh and Cleveland and going to Arizona and being traded and coming here. He was telling some guys that he's had to step right into a system like this before. That's an underrated skill. To have a guy who can come into a situation and score 31 points for his team a few days later? That's pretty ridiculous."
Dobbs has become the latest and most prominent face of the journeyman backup quarterback in the NFL. There was little reason to believe he could thrive in that win over Atlanta, or that he could lead the Vikings to a second consecutive victory by amassing 312 total yards and two touchdowns in a 27-19 win over New Orleans this past Sunday -- and that's because Dobbs didn't even know the names of most of his teammates at first. His ability to produce in such adverse conditions said plenty about what he's learned while primarily operating in a supporting role for most of his six pro seasons.
It takes a unique personality to succeed as a career backup, and it feels like they are more in demand these days. Take a good, long look around the league, and you'll find several other players who've carved out a niche comparable to Dobbs. Some already have played this season (like Gardner Minshew in Indianapolis, PJ Walker in Cleveland and Taylor Heinicke in Atlanta). Others are preparing themselves in case of injury (such as Detroit's Teddy Bridgewater, San Francisco's Sam Darnold and Washington's Jacoby Brissett). Like Dobbs, these are all players who've either started or been good enough to compete for a job, and they've all continued their careers by taking on supporting positions with multiple franchises.
It's not an easy transition, but the job is vital to the success of many organizations. The quarterbacks who last in that role embrace the idea that they'll be facing situations that aren't optimal whenever they're pressed into service. As Dobbs said in his press conference after the win over Atlanta: "Usually, people don't really about care your circumstance. They just want to see you succeed given the circumstance you're given."
"To be good in that (backup) role, you have to be a guy who can step in and play winning football when your opportunity comes," said Carolina Panthers head coach Frank Reich, who made his name as Jim Kelly's backup in Buffalo from 1986 to 1994. "You have to have the right chemistry with the starter. You need to have a strong personality and be a leader, but you also have to be humble enough to understand you're the No. 2. You basically can't be somebody who takes up too much of the room while also keeping the mindset that you're actually capable of starting. It's not an easy job."
If that sounds complicated, then imagine applying all those intricacies and having to produce when thrust into emergency situations. Backups also have to work without the advantage of countless practice reps or game plans built around your skill set. The difference between veterans like Dobbs and developmental projects that sit on the bottom of depth charts is the ability to deliver. That is the main reason certain teams invest in such players, either when building out their rosters or when scrambling to find a reliable replacement.
The value of the journeyman backup also isn't limited to wins and losses. They can benefit an organization every day just with the attitude they bring to the job. Future Hall of Fame quarterback Tom Brady spent his final three seasons before retirement with Blaine Gabbert backing him up in Tampa Bay. Brady once told Gabbert that he often wondered how easily he could've stumbled during his legendary career in New England if he hadn't had the support of backups like Damon Huard, Brian Hoyer and Drew Bledsoe, the man who ultimately lost his job to Brady because of injury.
Like Dobbs, Baltimore Ravens quarterback Josh Johnson has become known as something of a specialist when it comes to teams reacting to disastrous situations, as he's been rostered by 14 different franchises in his career. He actually has signed late-December contracts three times with three different clubs since 2018, and he wound up playing in at least one game each time, including an appearance in San Francisco's NFC Championship Game loss to Philadelphia last season (after the 49ers lost Brock Purdy to an elbow injury). Johnson didn't finish that game because of a concussion. He also has no regrets about his career path.
Johnson ran into a former teammate recently who questioned why he was still hanging around the NFL at age 37, asking the quarterback, "You're still in it, huh?" Johnson understood the shade being thrown his way and dismissed it as the misperception of an ex-player who was too proud to see the opportunities that could still be had in the game. "I told him I choose to look at things a different way," Johnson said. "I'm doing what the job requires."
The 28-year-old Dobbs has been in that position many times during his own career. He joined the Tennessee Titans last December and wound up playing in two games, including a season-ending loss to Jacksonville that ultimately decided the AFC South title. He signed with Cleveland (for the second time in his career) this offseason. On Aug. 24, the Cardinals traded for him, thrusting him into the starting job two weeks later. His highlight with that franchise was leading a Week 3 win over Dallas.
The Vikings traded for Dobbs on Oct. 31, two days after starting quarterback Kirk Cousins suffered a torn Achilles (and, as Dobbs recounted on an episode of the podcast he co-hosts with Chiefs guard Trey Smith, shortly after Dobbs finally had his furniture moved from Cleveland to Arizona). Dobbs spent his first day with the team working with Grant Udinski, the team's assistant quarterbacks coach and chief of special projects, as the two focused on basic terminology, formations and cadences. The second day included preparation with the game plan, along with third-down and red-zone situations. Then came the third day, when Udinski and Dobbs went through the entire play-call sheet for the game, to see what Dobbs could grasp.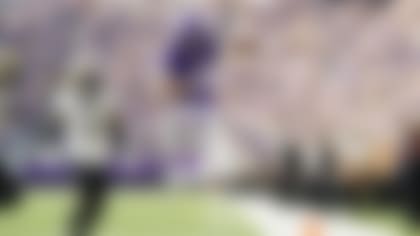 That was most of the coaching Dobbs received going into the Atlanta game; he also ran the scout team offense in practice. Keep in mind, he'd started the previous eight games of the year for Arizona, including a loss to Baltimore a week earlier. Said Dobbs during his press conference last week: "I was able to get a comfort level of what translated to things I'd been doing in the past, what I heard that made no sense to me and just to be able to communicate that, 'Hey, if you want to call this play, this is the communication I need.' It gave (head coach Kevin O'Connell) and the rest of the coaching staff a feel of what I was comfortable with in the offense."
It surely helped that there were people in the building who knew Dobbs -- receivers coach Keenan McCardell had worked with him in Jacksonville, and tight end T.J. Hockenson had done offseason training with Dobbs in Tennessee, where both players have homes -- but Dobbs still had to keep himself ready without much on-field preparation. It turned out that those previous experiences in Tennessee and Arizona helped steady him when planned starter Jaren Hall suffered a concussion, and the Vikings needed Dobbs to play.
Dobbs established himself as soon as he jogged into the huddle for his first play. He needed to scan his wristband to make sure he knew what O'Connell was calling, but teammates said his voice was firm and calming. Even after being sacked for a safety on his first possession -- and losing two of three fumbles -- his teammates didn't see an anxious signal-caller trying to figure things out on the fly. The longer Dobbs played, the more he fell into a rhythm, with O'Connell advising him through the quarterback's headset before every play.
"That was huge for him to come into the huddle and talk precisely and say the play calls," Hockenson said last week. "And then obviously what he can do on his feet, just making opportunities for us with second-play opportunities. If the first read isn't there, he can extend the play, and we can freelance from there. It's a lot of fun."
There appears to be a larger need for career backups like Dobbs these days for one simple reason: The quarterback position is going through upheaval. Not only have there been significant injuries to veterans like Cousins and the New York Jets' Aaron Rodgers, but the last few years have seen a steady departure of top signal-callers from the league (a group that includes Brady, Peyton Manning, Drew Brees and Ben Roethlisberger). Of the 32 players projected to start this season at quarterback for their respective teams, only nine had reached or surpassed their 30th birthday.
Rookies like Carolina's Bryce Young, Indianapolis' Anthony Richardson and Houston's C.J. Stroud all started this season for their respective teams after being three of the top four picks in this year's draft. Green Bay's Jordan Love, Washington's Sam Howell and Pittsburgh's Kenny Pickett stand out among those signal-callers getting their first opportunities as full-time starters.
"It's such a vital position, having a stable veteran to help a younger guy," said Gabbert, who backs up Patrick Mahomes in Kansas City this season. "You see a lot of these young guys come into situations where they don't have established backups, and it's tough. You take two second- or third-year guys and a rookie in a quarterback room and they haven't seen enough ball to be a benefit. So some people lose sight of having an older guy in the room. It's an invaluable position in my mind."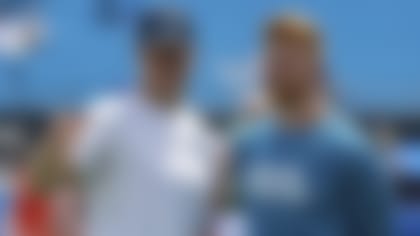 Gabbert falls into one of the two most common categories of career backup. He lasted three seasons in Jacksonville after becoming the 10th overall pick in the 2011 NFL Draft, and now he's on his sixth team in 13 years. Carolina's Andy Dalton had a more successful run in Cincinnati, leading that organization to five playoff appearances between 2011 and '19. He's currently on his fourth stop as a backup, after taking similar jobs in Chicago, Dallas and New Orleans.
The adjustment they had to make involved humility and honesty. Dalton said he never stopped seeing himself as a starter after his time in Cincinnati -- and he did play in 33 games with the other clubs -- but he also realized his opportunities to be the No. 1 would be limited. It was the same realization that came for Josh McCown, currently the Panthers' quarterbacks coach. In the 2004 season (his third in the league) he was the starter in Arizona; four years later, after stints with two other franchises, he was backing up Jake Delhomme in Carolina.
It was at that point that McCown sat down with his agent, Mike McCartney, and had a heart-to-heart talk about the future. "That's when I realized I was probably out of shots (to be a full-time starter)," said McCown, who was a third-round pick of the Cardinals in the 2002 NFL Draft. "That's when I decided to be the best backup I could be. It started with Jake Delhomme right here. I decided that this goal of becoming a franchise quarterback wasn't going to happen, but It didn't mean I had to back off it. I just had to accept that it might not be my journey."
McCown called that decision "freeing," in that he began to see the game and his role in it differently. His appreciation for being in the league grew immensely, especially when he found himself out of the NFL for a season in 2010. The important thing McCown understood was that he didn't become less of a player. (And, in fact, he ended up starting 45 more games with four different franchises after 2010.) He's encouraged Dalton to bring a similar attitude to his role in Carolina.
"I never told myself that once I made a squad, I was good. I always believed if I ever got to a point where I wasn't willing to push for a starter's job, then I knew it was time to stop." -- Chase Daniel
Dalton was the guy who scrambled to retrieve the football after Bryce Young threw his first NFL touchdown pass. He has a say in the plays that might work best for Young, and he's often interacting with offensive teammates on adjustments when Young is tied up on the sidelines between possessions. "You always want to have the starter's back," Dalton said. "When you come to the sideline and you made a throw that you probably shouldn't have made, it's nice when the backup is saying, 'That was a great decision, great ball.' It keeps you in that mode that you want to keep going. You want to be the biggest cheerleader for the starter."
Dobbs is the kind of career backup that falls into the second category. He was a fourth-round pick of the Steelers in 2017 and spent three seasons with that team before bouncing around the league. He had to learn to strike the proper balance between wanting an opportunity to play and being able to deliver when called upon. It's a skill that Dobbs has shown he's mastered, and one that has given plenty of other journeyman signal-callers a chance to extend their careers.
Chase Daniel knows this. He retired after the 2022 season, having logged 14 seasons in the league while being rostered by seven different teams. As an undrafted free agent coming into the NFL in 2009, his road down the path of the career backup began when Washington cut him as a rookie, and he landed in New Orleans. Daniel didn't know it at the time, but sitting behind Brees and Mark Brunell became a graduate course in playing quarterback that served him well.
When Daniel finished his time in New Orleans, he wound up signing a three-year, $10 million contract with Kansas City in 2013. He later became a valuable commodity when future teams needed a veteran presence in their quarterback room, while also maintaining an essential mindset through his journey. "I never told myself that once I made a squad, I was good," Daniel said. "I always believed if I ever got to a point where I wasn't willing to push for a starter's job, then I knew it was time to stop."
Johnson uses the same approach in Baltimore. He acknowledged that he wanted to achieve loftier goals when he began to build his own career. It was his time with the XFL's Los Angeles Wildcats in 2020 that altered his own thinking. Johnson was able to feel what it was like to have an entire organization relying every day on him as the starter, and Pro Football Focus graded him as the league's top quarterback for that season.
"I was like any other 23-year-old when I started out," said Johnson, who entered the NFL as a fifth-round pick of Tampa Bay in 2009. "I was immature. When you're young, you want things that you may not deserve at the time. I went from being consumed about what I wasn't getting to focusing on the things that were coming my way."
Dobbs clearly has his own peaceful mindset. When he arrived in Minnesota, he talked openly about embracing whatever role he was given. That first meant being supportive of Hall, a rookie who was the third-string quarterback when the season began (Nick Mullens was the Vikings' second-string option, but he landed on injured reserve in October). Dobbs also spoke about the lessons he's gleaned while preparing as a backup in places like Pittsburgh, Jacksonville, Detroit and Cleveland before having the opportunity to start in Tennessee and Arizona.
Dobbs produced the best numbers of his career in Arizona this season, as he completed nearly 63 percent of his passes with eight touchdowns and five interceptions. He added another 258 rushing yards and three touchdowns on the ground before the Cardinals prepared to move injured starter Kyler Murray back into action. "It caught me off guard, honestly," Dobbs told reporters of the trade after arriving in Minnesota. "After the game, it was first announced that I was starting for the Cardinals in Cleveland [in Week 9], and then the next 36 hours were a little crazy after that. So I was surprised, but at this point of my career, in my journey, you're not too surprised about anything happening."
The Vikings can feel more comfortable about preparing Dobbs now that he's working as the starter. He admits he's still acclimating to his new home, whether that means finding spare time to look for housing in Minneapolis or being excited about the arrival of his car from Arizona last week. O'Connell also is praying Dobbs can stay healthy moving forward. He recently joked that he doesn't want to publicly acknowledge what his options are at quarterback if he's forced to move to a fifth option.
Minnesota now has turned into one of the hottest teams in football, with a journeyman starter who is enjoying every minute of this current ride. That win in Atlanta was especially surreal because Dobbs grew up in the nearby suburb of Alpharetta. Dobbs even learned how quickly his life had changed once again; he barely had time to find his parents after the game, due to the sudden media responsibilities thrust upon him. When he did locate them in the Vikings family area, he gave them his jersey to take back to their home.
The one thing Dobbs didn't appear to do was attach too much weight to that moment. He's spent nearly his entire career in a supporting role, which meant the only thing that truly mattered was what he was prepared to handle next. "Josh has been getting a lot of love and rightfully so, because he deserves it," Risner said. "But the best thing I've heard from him came right after the (Atlanta game). He said, 'They can love you last week, but if you don't take care of business this week, they're going to forget about you.' I love that because it's so true in this league. You have to go out and prove it every week, especially with that job."
Editors: Ali Bhanpuri, Tom Blair
Illustration by: David Lomeli