The first regular-season game in Germany is the latest chapter in the story of the NFL's efforts to showcase the game around the world -- a story that includes giant animatronics, star treatment for kickers and plenty of hot sauce.
When the Minnesota Vikings and New Orleans Saints took the field at London's Tottenham Hotspur Stadium last month to launch the 2022 International Series, it marked the 100th game the NFL played outside of the United States.
From the very first, the New York Giants' 27-6 thrashing of the Canadian Football League's Ottawa Rough Riders in Canada's Landsdowne Park in 1950, the NFL has exported American football as far as Japan and Australia, from Spain to Sweden and throughout North America. As disparate as those locales are, there has been one universal truth about all the games.
"Europeans and Japanese and Mexicans don't use ice like Americans do," said John Omohundro, who was the head athletic trainer for the St. Louis Cardinals when they played the first game ever in Tokyo (1976), the first game ever in London (1983) and, as the Arizona Cardinals, the first regular-season game ever outside the United States, in Mexico City in 2005. "They were astounded by the ice requests we had."
That unmistakable undercurrent of cultural disconnect has sometimes made the NFL's international games feel like "Lost in Translation"in cleats. Those early exhibitions -- until 2005, the games were all played in the preseason -- were intended to expose a global audience to a sport that was played almost exclusively in the United States. There were games against teams from the Canadian Football League, the Global Cup (the moniker given to that first London game, between the Cardinals and Vikings), the American Bowl series of preseason games, and the China Bowl, which was cancelled before one game was played. The outreach had the desired effect -- people around the globe were intrigued by American football. But it also meant that players and coaches, who are famously wedded to routine, were thrust into something wholly unfamiliar. The results were amusing.
Before the 2003 American Bowl between the New York Jets and Tampa Bay Buccaneers in Tokyo, Jets center and future Hall of Famer Kevin Mawae ate at the Sizzler in the team hotel, explaining his decision not to venture to one of the city's famed fish markets for perhaps the greatest sushi in the world, this way: "Go where you know." The Jets practiced for that game in the outfield of the Tokyo Dome, where a 50-yard grid has been painted. As soon as the practice ended, the grid was erased, so a baseball game could be played later that night. Before kickoff, the stadium announcer offered a rudimentary description of football. The mixed martial artist (and, briefly, former NFL player) Bob Sapp, who was then an icon in Japan, got as much applause as Warren Sapp, the star of the then-defending Super Bowl champions and a future Hall of Famer himself.
Now, 17 years after that inaugural regular-season game in Mexico City, and 15 years after the NFL created the International Series, games abroad are so popular that on the day tickets went on sale for this year's expansion to Germany, 800,000 people were in the electronic queue. That game -- Seattle versus Tampa Bay at Allianz Arena in Munich -- is this Sunday, and will be broadcast on NFL Network at 9:30 a.m. ET.
"I'd never been more tired playing a football game than that game." -- Shaun O'Hara, on playing in London
"This is not just the circus is coming to town," said Peter O'Reilly, the NFL's executive vice president, club business and league events, who oversees the International Series. "This is, 'I may not ever be able to fly to the United States to go to a game.' They are legit fans."
The story of the NFL's international foray from Ottawa to Munich is one of hot sauce, oddly-timed ovations, devotion to kickers, an animatronic Jason Taylor and a ballooning interest that has the NFL already contemplating which country will be next to host a game. Those who planned the games, procured the passports, shipped the protein bars, endured the jet lag and searched out the fish and chips tell the tale best.
---
---
Omohundro, on the Cardinals' first trip to Japan in 1976: We were the guinea pigs. We were doing everything first. They had no down chains or markers. We were the home team, so we had to furnish it. You can't just go down to the sporting goods store and say, "We need down markers and chains." Going through customs with everything. We get to the stadium, and our coaches said they needed to have the field marked, and the groundskeeper said, "We have baseball games to play." So we put down a 60-yard field with hashmarks and numbers with tape. Then we would pick up the tape afterwards and throw it in the trash.
There was not a complete lack of familiarity with football in some of the countries the NFL visited. In 1982, a new television network -- Channel 4 -- launched in the United Kingdom and began showing NFL games. That created a base of fans who were in their 20s and 30s in the 1980s.
Mark Waller, former NFL executive vice president, international endeavors: There's something underestimated by people -- the power of successful things in America to people who are not American. The same is true of American football. American movies will have football. The Super Bowl is well-known. It's that gold standard of American culture -- people who are not American gravitate to that.
Those fans quickly realized that NFL Europe, a pro league launched in the 1990s, was not the gold standard of football. It was a developmental concern, and while it may have been useful to give young players experience, it was not as good as a marketing tool for the NFL. It was shuttered in 2007.
Waller: The thinking was that given the expansion of media and digital media expansion, fans around the world were now able to see the best of everything live. If you were in the states, you wanted to watch Premier League. If you're in the U.K. and you want to watch the NFL, you want to watch the Giants and Jets, not the Frankfurt Galaxy.
In 2005, the first international regular-season game -- NFL Fútbol Americano, it was called -- was played in Estadio Azteca, a 31-14 victory by the Arizona Cardinals over the San Francisco 49ers in front of 103,467 people. The Mexico audience was much more knowledgeable about the game than Europeans. Exhibition games had been played in Mexico starting in 1978, and there is a long history of youth football in Mexico, including universities playing the game in the 1920s. NFL games were shown on local Mexican television starting in the 1960s. The history there and the proximity to the United States meant that the learning curve for fans and the disruption for teams was minimal.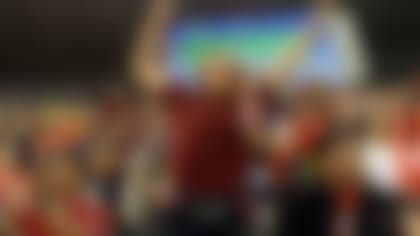 The biggest problem with games in Mexico was that while Estadio Azteca is an immense, and famous, stadium, its locker rooms are miniscule, constructed to accommodate the much smaller rosters of soccer teams, not dozens of players, coaches and team personnel, and the piles of equipment needed in an NFL locker room on game days.
That, though, was nothing compared to the crash course in NFL 101 that has taken place in London over the years.
Osi Umenyiora, British-born former New York Giants defensive end, two-time Super Bowl champion and NFL analyst for ITV: When we do our show, we have to strike a balance between explaining it to the newbies, and we don't want to sound like they're stupid to the diehards. There are still times we have to go into elementary football -- if you can explain the offense has four tries to get 10 yards, that lets them start following it that way.
Omohundro: We would tape guys at the hotel and then bus over to practice. A couple of waitresses there were really curious -- do all of your players get bandaged? Are they all hurt? Do all of your players wear the bulky underplating?
Julian Edelman, former New England Patriots receiver, who played in London in 2012: We had a walkthrough in Hyde Park. People were walking by and had no clue what we were doing.
Shaun O'Hara, former New York Giants guard, who played in the first International Series game at Wembley Stadium in 2007: The fans cheered the entire time. You're in the huddle and thinking, why are they cheering now, we're trying to call the play? Even when we were in commercials.
Waller: Twickenham had done rugby for 100 years. After the game, the manager said, "This is unbelievable. We've sold more food and more drinks than we've ever done before. This is a six- or seven-hour experience rather than rugby. Second, we have to rethink all the waste disposal because we would usually not empty the trash bins until after the game."
Omohundro: We had a bobby on the sideline for security, and I said, "What do you think of American football?" He said, "We've seen quite enough. You blokes go on for three plays and come off and on and off. Our boys play full."
Spectators were not the only ones who had to learn how to make this work. When the London games first began, teams would arrive on Monday or Tuesday and spend most of the week in central London, training at inadequate facilities, before moving to a hotel near Wembley Stadium on Friday.
Now, most teams go to London on Thursday or Friday, making it much more like a typical -- albeit distant -- road game. The league also adjusted the time games are played in London, moving them out of Sunday evening kickoffs in London -- that is not a typical time for sports to be played in the U.K. -- and instead playing them on Sunday afternoon, giving American audiences a game that begins at 9:30 a.m. on the East Coast. That also made the London games standalone television events back home.
To surround the games with the pageantry more typical to Buffalo and Kansas City, the NFL had to largely create a culture around its games that simply did not exist before. Because in the U.K. there is no car parking around the stadiums, the NFL created the equivalent of tailgate parties by staging fan parties in Wembley Park and in local pubs. And, most of all, it had to build interest when the games were first beginning -- as epitomized by an especially hard-to-miss promotional tactic ahead of the first International Series game, between the Giants and Dolphins in 2007.
Waller: For the first game, the (NFL's) U.K. office built a 30-foot model, an animatronic motorized thing, of Jason Taylor. It was extraordinary. A 30-foot tall model of Jason Taylor, and we would move it around central London, putting it at train stations to promote the game. And then we tried shipping it back to Miami at some point. We had no idea. It was the day Eli Manning rushed for almost as many yards as he passed. It was like the end of the world.
O'Hara: According to Eli, he outran Jason Taylor. We had to hear about Eli's speed the entire way home. "Did you see me outrun Jason Taylor?"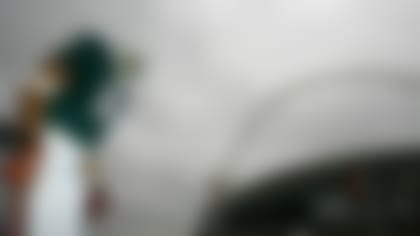 The 10-yard touchdown run for the less-than-fleet Manning on a sodden field in the Giants' 13-10 win over the Dolphins revealed another issue the NFL had to manage and one that has, off and on, continued to be a headache. Four years ago, a game slated for Mexico City had to be relocated to Los Angeles when the field was deemed to not be up to NFL game standards.
Omohundro suspected that would be a problem from the beginning. During one pre-game visit to Wembley, he told one of the groundskeepers -- who was on hands and knees tending to that hallowed turf -- that NFL games damage grass fields. The groundskeeper responded by telling him that Wembley was "the finest pitch in the world." It was definitely not by the time the NFL game was done.
O'Hara: It rained. We realized that a soccer field wasn't used to 300-pound guys in seven-stud cleats. We tore up the field.
Waller: (NFL Commissioner) Roger (Goodell) came to inspect the field the second or third year and the field was terrible. Roger was kicking the turf and going, "This will never happen again." Then we had the fiasco in Mexico.
The hardest prep work, though, has been performed by the team employees who are charged with everything from procuring passports to readjusting sleep cycles. A shorter road trip is easier for them -- a general rule is the more time spent away, the more training equipment has to be shipped -- but every detail of travel has to be reconsidered.
Jeff Brown, Indianapolis Colts director of operations: It's not as easy to get a passport as you think. You'd be surprised how many guys have no idea where their birth certificate is.
The busses are different sizes, so how many busses do we need? How do we get the guys to the bus? Here, we land, and the busses pull right up. There, you are going through customs.
Not surprisingly, nothing seems to have generated as much angst -- for team officials or the players themselves -- as the food, especially in the first few years of the games in London. Team chefs, who are used to preparing the food players like and need in the team cafeteria, have gone to London to help with the food preparation at the team hotel. And the hotel chefs have visited the team facilities in the United States, to see what meal prep is like. The goal of all of this, of course, is to make players as comfortable as possible, to maximize their game performance. The planning starts months ahead, and goes into effect as soon as players get to the airport.
Mindy Black, Jacksonville Jaguars director of performance nutrition: The moment they get on the plane, it's eat dinner, and then start your nighttime routine. We talk about cutting out caffeine earlier, because we're asking them to go to sleep. We serve cherry juice on the plane -- food that helps you sleep. I always make that a menu that is not gas-forming. We usually promote, "Have a bottle of water for every hour on the plane," but on this one, I want you to sleep. When the lights come up for breakfast, then we are really on it. On the way back, we're usually going into the bye week, so it's fried chicken, have anything you want.
Because the Jaguars, who have played one game in London every season since 2013 (except for 2020, when no teams played internationally because of the COVID-19 pandemic), have the most experience, they have largely ironed out the kinks to international travel. But they also had the earliest experience with everything that went wrong. To guard against a repeat of some earlier disasters, Black ships food ahead.
Black: In July, we send a pallet of the creature comforts we can't get over there. Ranch dressing, A1 steak sauce, Goldfish crackers, hot sauce. For three days, I have a case of ketchup, hot sauce, syrup. They have real syrup, but the guys don't like that. Kind bars, MacroBars, so they at least have some snacks to keep their weight. As long as we have enough ranch dressing and hot sauce, we can get through.
My first year here, I had a 5-week-old so I didn't travel with the team. I was talking on the phone with the chef at the hotel. I mentioned spaghetti squash -- I thought that was pretty standard. All of a sudden, I started getting texts, "What is this?" They gave them, literally, spaghetti noodles with squash on top. They don't do peanut butter and jelly sandwiches there. The first few years, it would literally be a sandwich with peanuts, butter and jelly. Another text: "Mindy, what are you serving us?"
They don't refrigerate their eggs, so they are a different color, and guys will freak out. I tell them the fish has to have the skin off. I still have not solved the bacon and sausage issues, and guys yell at me every year. The biggest horror stories -- you think you've been over there enough that you know -- but then the whole fish will show up, and I have to tell the chefs, "OK, we can't have heads on fish."
Edelman: The breakfast, guys didn't really understand it, the crepe-style pancakes.
Black is a foodie, and she prepares a restaurant guide for London to help players. She says it hurts her heart when she sees players going into a burger place.
Logan Cooke, Jacksonville Jaguars punter: The first year, I wanted to go to the most local pub and get fish and chips. It was pretty cool to eat local and have fish and chips that wasn't at a Shoney's. I have been out and eaten food, and it's just not how mama makes it in Mississippi. They need to learn about Tony Chachere's hot sauce.
Edelman: I think Boston and San Francisco have better fish and chips.
For all the food choices and tinkering with the departure date, though, nobody has fully solved the one problem that seems to plague every player who has participated in a London game.
O'Hara: I'd never been more tired playing a football game than that game.
Teams usually go straight from the airport into meetings and even a practice in an attempt to keep players from falling asleep during their first day in London, the better to reset their internal clocks. That is how Tom Coughlin approached it with the Giants for the first International Series game -- he told players to stay off their feet, to skip the sightseeing, to treat London like a business trip.
O'Hara: We were zombies. Chelsea FC opened their facility for us to practice. On the bus ride there, everybody was knocked out. It was like somebody slipped a sleeping agent into the bus.
Brandon Marshall, who made the trip with the New York Jets in 2015: You get over there, and it's, "Hey, stay up so we can get on track." But the guys couldn't stay up. I've never seen anything like that. You may go a whole year and see four guys late for the team meeting. We had a meeting right after we got to the hotel, and half the guys missed it because they fell asleep. Then we wanted to do a real practice, and I've never felt this before -- like you couldn't move.
Marshall said he was so exhausted, he wasn't sure how he would get through the game, until the energy of the crowd propelled him. After their game, O'Hara told Goodell to never let coaches decide when to leave -- teams, O'Hara believed, should go early in the week to get acclimated, so they can play their best. The Colts researched whether teams that traveled early in the week won more than those that made it a short trip, and the results were split about evenly, Brown said.
Before Bruce Arians retired from his position as Tampa Bay's head coach this offseason, he had started thinking about how he would manage the Bucs' upcoming trip to Germany. He had done the London trip with the Cardinals in 2017 and with the Bucs in 2019, both losses for Arians' team. For Munich, Arians wanted to go on Monday and spend the week there. The team's sports science staff was trying to talk him out of it, though, telling him that treating it as a regular road game was better for players' bodies. (In the end, the Buccaneers decided to travel Thursday evening and arrive in Germany on Friday morning, with a practice set for 3:30 p.m. Friday.)
Arians: In Arizona, we went on a Monday and had a great week of practice. We couldn't have had a better prep for the game. We played like crap, got the hell beaten out of us. Next time, I say, we'll just go on Friday. We played like crap again.
Still, Arians raved about the trips, if not the results. One day, Arians was out for a walk and got stopped by people from 10 different countries for autographs. He visited a bar near Parliament that always embraces the home team, and said it was wild with fans. O'Hara loved the game so much, he kept everything he could from the trip, taking the nameplates from the Wembley locker room, the game ball, and the practice jerseys that had a special London patch on it.
Germany already has an NFL fan community that is on par with the U.K., in part because of the large American military community there, and because Germany was the primary market for NFL Europe in its final years. The NFL has undoubtedly made inroads where soccer is king. Still, the Seahawks and Bucs are likely to learn what every team that has played abroad already knows.
Cooke: When we went over my rookie year, Josh Lambo had a consecutive-field goals record to break. He was getting interviewed by all these U.K. reporters -- it was like he was Peyton Manning. That's when it set in: these people really love kicking.
Editors: Ali Bhanpuri, Tom Blair, Brooke Cersosimo
Illustration by: David Lomeli
Illustration photos courtesy of: Shutterstock