Many believed it would be a mistake to conduct it in the midst of a pandemic, but from Bill Belichick's dog to Jerry Jones' yacht to Kliff Kingsbury's mansion, the Virtual Draft of 2020 was one of the most memorable in NFL history, and perhaps a teaching moment for others to follow.
By Michael Silver | April 27, 2021
Roger Goodell remembers the precise moment that quarantine fatigue first found its way up the Atlantic Coast to his vacation home in southern Maine, interrupting an 18-hour workday amid a time of fear and uncertainty for the NFL, and for the world at large. It was early April of last year, and the NFL commissioner was trying to navigate a logistical minefield, having informed the league's 32 clubs that the draft would proceed as scheduled later that month, but in a fully virtual format. Goodell had made the decision despite the inevitability of widespread public criticism, with many fans and media members questioning the optics of conducting a three-day-long, nationally televised player-allocation spectacle as the COVID-19 pandemic morphed into a full-fledged crisis with no end in sight.
The blowback from outsiders, however, was nothing compared to the freak-out calls, texts and emails the commissioner was getting from coaches, general managers and owners who couldn't wrap their heads around a draft in which all parties concerned would be cooped up in their own homes.
"Freaking out? No, it was (worse). It was, 'We can't do it!' " Goodell recalled last week in a telephone interview. "I mean, people that I admire and respect. … I was getting calls all over the place. I'll bet you there were at least a dozen of them. And there was a lot of doubt. There were 101 excuses, and that's just what it was."
The commissioner finally snapped upon receiving such a call from a high-profile head coach -- Goodell prefers to keep his name out of the story -- who conducted the conversation while engaging in his daily exercise regime.
"I was in my study up in Maine," Goodell said, "and I'll never forget it. He said, 'We can't do it.' And, you know, his GM had young kids and he couldn't be in the house. … It was unbelievable. And he wasn't alone, by the way."
"I said, 'We can do it. And we've got to innovate. It's going to be different. And we've got to think about it differently. … You'll figure it out!' "
What neither Goodell nor the coach could have imagined, at that moment, was just how different -- and how disarmingly refreshing -- the 2020 draft would prove to be. Instead of being bogged down by technical difficulties, communication breakdowns and debilitating distractions, the three-day pageant was smoother than a John Legend vocal. It featured a steady stream of memorable moments that ranged from poignant to weird to flat-out hilarious. With cameras installed in the residences of coaches, GMs and 60 draft prospects, along with one owner's super-yacht, viewers gained entrée into the home lives of familiar faces locked down with their loved ones -- and cast aside a slew of preconceived notions while embracing the paradigm shift.
"Freaking out? No, it was (worse). It was, 'We can't do it!' I mean, people that I admire and respect. … I was getting calls all over the place." ROGER GOODELL
"I wasn't sure we would be able to do it, but it turned out to be awesome," former Atlanta Falcons general manager Thomas Dimitroff said of his 13th and final draft for the franchise. "The humanizing side of it was special. A lot of us are perceived in a stoic, myopic way, and in that context I think we were able to be seen in warm-hearted ways … seeing people's kids hanging on them as they made the pick. And, of course, Bill and the dog."
For all the attention-grabbing sights that took place during the draft's first night, from Arizona Cardinals coach Kliff Kingsbury's "Scarface" setup to newly drafted Dallas Cowboys receiver CeeDee Lamb's deft repossession of his other cell phone while receiving the call of his dreams, the most indelible image undoubtedly occurred on Night 2, when New England Patriots coach Bill Belichick surreptitiously swapped places at the dining room table of his Nantucket getaway pad with Nike, his Alaskan Klee Kai.
As Nike sat obediently in the six-time Super Bowl-winning coach's chair, with laptops in pawing distance, a screen graphic identified him as Belichick, who was nowhere to be seen. "The most gangster thing ever," said Tampa Bay Buccaneers general manager Jason Licht.
Had Nike actually been dispatched to make the Patriots' second-round pick, as the scene suggested, the collective worries of so many coaches, GMs and owners might have been somewhat validated. Yet, for all intents and purposes, the Virtual Draft would proceed without incident -- and receive near-universal praise at a time when so many Americans desperately sought diversionary entertainment.
As he sat in the basement of his Bronxville, N.Y. home announcing picks and munching on M&Ms, Goodell knew the deal: With the nation confronting an exponentially growing virus and the death toll rising, nothing about the 2020 season was promised, and many, many challenges lay ahead.
Yet, on Day 3, as the final picks came off the board, the relieved commissioner felt comfortable enough to engage in an eminently relatable act of celebration that was sadly shielded from the viewers (we'll get to that later). By then, the naysayers had grown silent. And the draft wasn't just critically acclaimed: A record 55 million viewers tuned in to watch ESPN and NFL Network's joint production and ABC's concurrent broadcast, while the newly debuted Draft-A-Thon raised $6.6 million toward six charities offering aid tied to the pandemic.
By all measures, the Virtual Draft had been a smashing success, but was it a one-off? Not exactly, at least if Goodell has his way. As the NFL prepares to take another step toward a return to normalcy -- with this week's draft set to take place in front of large crowds at an outdoor setting in Cleveland, and decision-makers gathering in team facilities (with one notable exception) across the land -- Goodell is determined to transplant some of the 2020 draft's DNA into future broadcasts.
"Certainly the draft will be different this year because of the experience last year," Goodell said. "It taught us all."
The first lesson actually came in March of 2020, when the NFL successfully rolled out the start of its league year -- and the free-agency frenzy that accompanied it -- as the rest of the sports world was shutting down and many states were issuing stay-at-home orders. Even as numerous team facilities closed, general managers, coaches, players and their agents were able to conduct important business, something the commissioner valued immensely.
"There were people that said, 'We should push free agency off,' " Goodell said, recalling a conference call with the league's competition committee. "And I was like, 'No, we shouldn't.' And they go, 'We're going to appear tone deaf.' I said, 'You think this isn't going to be worse a week from now? I can't tell you, but people want to see that things are continuing, that they're going on. And, we've gotta go.'"
He felt similarly about the draft, though presenting it as scheduled -- in an ornate setting in the heart of the Las Vegas strip, with a projected attendance of 750,000 -- was obviously a non-starter.
"It started when everything was shut down on March 11," said longtime ESPN personality Trey Wingo, who anchored the jointly produced 2020 broadcast and has since signed with Pro Football Network. "I was talking with (ESPN Vice President of Programming) Seth Markman, who had just left a huge planning meeting in Vegas. Then he got the call: 'We're not doing this in Vegas. We're doing it in Bristol.' I said, 'What does that mean?' He said, 'I don't know.' "
A similar sense of uncertainty was playing out in NFL cities, as general managers and other key decision-makers confronted an unnerving realization: The centerpiece of their offseason, a process that traditionally hinged on real-time communication and consensus, would be impacted by the realities of the pandemic.
Goodell, determined to maintain competitive balance, had decreed that if any of the 32 teams was denied access to its facility via state and/or local orders, all teams would have to vacate their buildings during the draft. Social-distancing protocols soon made it clear that GMs, coaches, scouts and everyone else concerned would be gathering only with those in their own households, and conferencing via Zoom, Microsoft Teams and other similar platforms.
The collective reaction, as Goodell soon learned, was as subtle as a Peaky Blinders season finale.
"Oh, there's no question there was a major mix of opinions," Dimitroff said. "There were some people that were really concerned about it, of course; there were some that welcomed the challenge. Concern and paranoia -- that can be an inherent trait of many senior-level executives in the NFL."
"This feeling of, just, 'Aw crap -- how is this gonna happen? How am I gonna be able to talk to my people? How are we gonna be able to communicate? What, am I calling this pick into the league myself? Are they gonna wire my house? How is this all gonna work?' " JASON LICHT
Licht, still basking in the glow of having signed Tom Brady in free agency, was nonetheless among those overcome by stress and skepticism.
"Oh yeah -- all of that," he remembered. "This feeling of, just, 'Aw crap -- how is this gonna happen? How am I gonna be able to talk to my people? How are we gonna be able to communicate? What, am I calling this pick into the league myself? Are they gonna wire my house? How is this all gonna work?' "
Technology felt like an especially challenging terrain. Said Licht: "I had really bad WiFi, so that was a concern. And just learning how to Zoom was an issue. One of the first Zooms I did with the league was a struggle. They had Michelle McKenna (the NFL's Chief Information Officer) do calls with the teams, and it turned out we were the first of 32. It was me and the (Bucs') IT manager. I went down to the bottom right and clicked mute and thought that meant they couldn't hear me … but I muted them, not me. Then my kids ran in and started making noise, and I yelled, 'Hey! I have a meeting!' And I looked at the screen and they were all laughing at me, because they heard all of it. So, I was scared. I wasn't up with the technology of Zoom and videoconferencing."
There were operational challenges on the broadcasting side, as well. After it became clear that NFL Network's Culver City, California facility would likely remain shut down through at least the end of April, the collaborative effort with ESPN was forged, with Wingo in the anchor's chair. Rich Eisen, normally the NFL Network anchor, instead hosted the inaugural Draft-A-Thon, a three-day livestream featuring numerous celebrities and NFL luminaries, all of whom encouraged viewers to donate to COVID-19 relief efforts.
Meanwhile, NFL Network draft analyst Daniel Jeremiah joined Wingo on the telecast and assumed an even larger role than planned because his ESPN counterpart, Todd McShay, was forced to miss the event while battling the virus. (ABC, as per recent custom, staged a separate and concurrent broadcast, with ESPN's Rece Davis anchoring.)
"I've gotta say, the spirit of cooperation between everybody was remarkable," Wingo said. "Everybody had one goal in mind: Let's figure out how to make this thing work, and not worry about anything else. None of us had any idea how it would play out."
Said Eisen: "People needed a big-time respite from reality. I think people view sports largely as something to distract, and also as a sense of maybe leadership -- seeing that something could be done in a socially distant manner."
Staging the event as scheduled also made business sense: At that moment, with the sports world essentially halted and most people hunkered down in their homes with far too much time on their hands, the NFL draft would be the only show in town.
"I know I was getting tired of COVID already at that time, and it had only been a month," Buffalo Bills owner Kim Pegula recalled. "I've always felt that sports has a way of bringing people together, of providing joy or a distraction from challenging things that take place in life. So, I wasn't concerned about the optics."
With the owners and Goodell in agreement -- the show must go on -- the only remaining question was: Will we pull it off?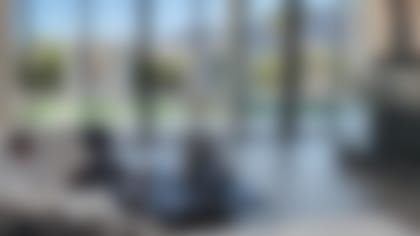 "I'm about to ask you something I never thought I would ask you," Wingo said to Goodell during the pre-draft broadcast. "How's your bandwidth?"
Goodell, sitting in a large leather chair in the wood-paneled basement of his Bronxville home, broke into a huge grin on the other side of the split screen. The commissioner was trying hard to keep things loose, at one point welcoming in some fans for some "virtual booing" in an effort to replicate the normal state of affairs.
If things seemed a bit stiff, at first, the energy improved as the picks came off the board. Edge rusher Chase Young, selected second overall by the Washington Football Team, celebrated with his family at their home in nearby Maryland ... and, shortly thereafter, with his extended family and friends in improvised fashion, spraying them from his front porch with the contents of a newly opened champagne bottle as rain fell on the raucous assemblage.
"Right after I got drafted, I had a lot of people come outside, about 50 or 60 people," the eventual NFL Defensive Rookie of the Year recalled. "As soon as the pick was made, people started gathering in front of my house. I've got a few aunts who had everything controlled outside, and I just kind of came out and waved and enjoyed the moment with them. It was a real cool evening."
Heartwarming family reactions were a recurring theme throughout the draft. After the San Francisco 49ers selected defensive tackle Javon Kinlaw with the 14th overall pick, his father, George -- a lifelong Niners fan -- fell out of his chair and exuberantly rolled onto the floor. Quarterback Tua Tagovailoa, born and raised in Hawaii, was surrounded by family members sporting leis as he received the call informing him he'd been picked fifth overall by the Miami Dolphins. Though he is the son of a three-time Pro Bowler, safety Antoine Winfield Jr. and his family members were especially animated after learning the Buccaneers had selected him in the second round.
"You got to see the whole family react after a player was picked, instead of seeing the players just walking onstage and shaking hands," Pegula said. "I did like that part of it, the casualness. I thought that was the best part -- getting a glimpse inside people's personal lives."
Viewers also got to see the children of coaches and general managers, some of whom were pressed into service by their fathers.
"I feel like it was a once-in-a-lifetime career thing to have my right-hand person being my son, Mason, who was 12 years old," Dimitroff said. "It was incredibly epic for me. That was the first draft he was really immersed in, and there he was, picking up the phone and dialing Bill Belichick, (Rams GM) Les Snead and (Eagles GM) Howie Roseman."
Dimitroff and then-Jacksonville Jaguars general manager Dave Caldwell talked about trying to have Mason and Caldwell's son, David Jr. (then 13), complete a prospective trade over the phone; alas, the deal never happened, as the Jags stayed put and selected cornerback C.J. Henderson with the ninth overall pick. (And a trade brokered by the two teenagers won't happen for the foreseeable future; both of their fathers were fired during the 2020 season.)
Licht's kids, Charlie, Zoe and Theo (then 11, 9 and 6, respectively), got plenty of camera time, too. The Bucs' GM also involved them in the scouting process leading up to the draft, which created a bit of anxiety in the household.
"I'm not trying to sound corny here, but it was so cool to have my kids there," Licht said. "I was stressed about them talking to their friends -- the kids of other GMs -- either through texting, or while they were playing Xbox. I kept telling them, 'You can't give anything out!' My kids would pop in and watch tape. My youngest was putting Post-It notes around my office: 'CeeDee Lamb is good,' or 'Take Tristan Wirfs' (Licht did, with the 13th overall pick). Then the whole next day, they were saying, 'Dad, do you think we're gonna get Antoine (Winfield)?' It was really cool."
"It was incredibly epic for me. That was the first draft he was really immersed in, and there he was, picking up the phone and dialing Bill Belichick, Les Snead and Howie Roseman." THOMAS DIMITROFF
Late in the first round, as the Tennessee Titans prepared to make the 29th overall selection, Mike Vrabel's kids provided a counterpoint to all the schmaltzy moments from earlier in the telecast. Standing behind the head coach were his then-18-year-old son, Carter (clad in Vrabel's 2007 Pro Bowl jersey) and Carter's friend, Jackson (in a blue-and-white costume mimicking The Freeze, a promotional character who appears at Atlanta Braves games). Vrabel's then-19-year-old son, Tyler, was spotted behind them in a pose that many people who studied the screenshot on social media perceived to be him sitting on a toilet; the Titans' coach later insisted to reporters that Tyler was actually sitting on a barstool, adding, "It's been a long quarantine over here, man. We've got a bunch of 19- and 18-year-old kids and, you know, they're stir crazy. And again, they saw all the other kids as the draft wore on and they said, 'Well, we'll give our own little spin to it.' It was fun."
The fun continued as viewers watched a surreal scene play out in the home of the player the Titans selected, Isaiah Wilson: His mother, intent on sitting next to her son during his moment of glory, physically removed the former Georgia offensive tackle's girlfriend from the couch.
Said Young, the No. 2 overall pick: "It was, 'Watch out, Shorty -- you didn't birth him.' That's how that went."
Wilson, who played only four snaps during a disastrous rookie season, has since been displaced from the league, having been released by the Miami Dolphins last month, shortly after they acquired him in a trade with Tennessee.
Young was even more amused by a moment that occurred earlier in the evening: Seconds after receiving the call (while holding the phone in his right hand) informing him he'd been picked 17th overall by the Dallas Cowboys, Lamb seamlessly reached over with his left hand and snatched his other mobile phone out of his girlfriend's grasp, giving a reproachful head shake before continuing the conversation.
"I gotta respect it," Young said. "He was like, 'Don't touch my stuff.' "
Recalled Wingo: "It was probably his second-greatest snag all year, right behind the epic touchdown catch in Minnesota. He proved his first-round talent."
There were other striking scenes, from the antlers and stuffed animal heads on display at Minnesota Vikings coach Mike Zimmer's Kentucky ranch, to Kansas City Chiefs coach Andy Reid's Hawaiian shirt (with an elliptical machine in the background), to the laminated game-plan sheets on Chicago Bears coach Matt Nagy's wall, to the sparse décor in Cincinnati Bengals coach Zac Taylor's home headquarters ("The cheapest looking office ever," in one NFC GM's words).
Then there was Roseman, the Eagles' GM, who viewed the draft as a "work event" and dressed accordingly -- to the lighthearted chagrin of his peers.
"I wore a tie on the first night, and I got a lot of s--- from other GMs," Roseman said. "A bunch of us talked about the dress code a couple of days before; I guess I missed the memo. My phone was lighting up: 'What's up with the shirt and tie?' "
Cowboys owner Jerry Jones might not have gotten the draft from home memo: He set up a personal draft room aboard his $250 million, 357-foot super-yacht, the Bravo Eugenia.
"They needed to pan that (camera) shot around!" Pegula said, laughing. "It was too close up. Then again, his yacht is so big, maybe they couldn't get it in the frame."
Against all odds, Jones was upstaged by a young head coach lounging on a white couch: Kingsbury, wearing loafers and no socks, his foot resting on a coffee table bearing three computer screens and four cell phones, with a sweet view of the opulent backyard of his Paradise Valley home.
"My first reaction was, 'I wish I had that setup,' " Dimitroff said. "A lot of people thought it was highfalutin', but I really appreciated the clean lines and the organization. No clutter -- my mind would be free in that kind of setting. It looked like a futuristic Phoenix party scene with high-end bottles of tequila strategically placed and no one around him … that single, star-studded life."
Among the many, many people in NFL circles to text Kingsbury upon seeing the first shot of the coach in his crib: His buddy Sean McVay. "He was definitely ready to roll on that," the Rams' head coach recalled. "Even (had) the fire pit going in Arizona."
Said Wingo: "First of all, I think that week it was 108 in the desert, and he had the fire pit going. I'm pretty sure it was the only one going in the area at that moment. They used the wide shot on purpose. It was like, 'Hey, check out my crib.' He wanted people to see the entire Kliff Kingsbury Experience."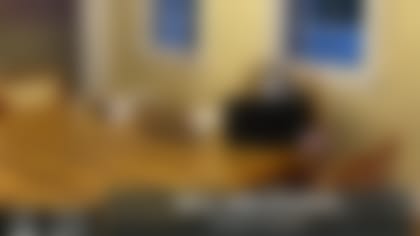 As the league's powerbrokers and their lieutenants regrouped following the first night's festivities, Goodell began to get the sense that something special was taking place.
"It got even better overnight," Goodell said, "because I think people saw the opportunity ... and it just became open season. Which is great, right? Because it just got better and better."
On Night 2, the cutaway to Belichick's husky sitting in the coach's chair at the dining room table across from a pair of laptops -- with the graphic "Bill Belichick, Head Coach" superimposed on the screen -- was as good as it gets. Perhaps it was a happy accident (Belichick's girlfriend, Linda Holliday, later told ESPN's Adam Schefter that Nike jumped up in expectation of receiving a nearby treat), but plenty of high-profile people in the football world ascribed the scene to coaching.
"I don't think too much happens without Bill thinking through it, or planning for it," Goodell said. "I don't think he relies on luck a lot -- put it that way."
Said Wingo: "I think of the line from Hunt For Red October, when Fred Thompson says of the Russians, 'They don't take a dump without a plan.' It wouldn't surprise me if Bill didn't train the dog to do that, like, 'I'm gonna leave -- sit here so it looks like it's you making the pick.' "
Perfect execution was a recurring theme. Though he attracted some attention by wearing a pinstriped suit on the first night that was a bit bolder than he'd envisioned when ordering it ("I could have been Jim Carrey's stunt double in The Mask"), Wingo didn't have to confront a live-television crisis and never went viral, far surpassing his expectations.
"I don't think too much happens without Bill thinking through it, or planning for it. I don't think he relies on luck a lot -- put it that way." ROGER GOODELL
"We'd go through these (pre-draft) meetings," Wingo recalled, "and we kept saying, 'There's going to be a glitch. There's going to be a problem. So, don't worry about it, and we'll just deal with it in the moment.' And the glitch never happened. You know how it is -- you do a Zoom call for a show or a work meeting, and there's always an issue. You can't hear somebody, or someone's connection is messed up.
"Well, the only thing that happened (on the draft telecast) was my fault. On Day 3, I asked a question with a group of (analysts) on the screen and forgot to say who I was asking, and no one knew who was supposed to talk. ... That was the only glitch."
Eisen enjoyed his unplanned sabbatical away from the anchor chair, both as an appreciative viewer after the fact and as the host of a new, altruistic and highly successful venture.
"There were so many great (draft telecast) moments -- showing off Belichick's Nantucket crib ... whatever Blue Man Group was going on in Vrabel's home ... Andy Reid's elliptical ... Kingsbury's James Bond setup," said Eisen, who was NFL Network's first on-air employee. "It was all very refreshing.
"For my part, I ended up anchoring a fundraiser/telethon, instead of covering the draft itself. I've always thought an NFL draft was as long as a telethon, and that it should be one -- a charitable, fundraising element to the draft always made sense to me, because people are just sitting there watching. To raise as much money as the Draft-A-Thon did, it was a great feeling. It was weird, hosting something from the corner of my desk, but I'm as proud of that as anything I've done for the NFL."
And on the third day, the commissioner cracked a beer.
Perhaps tragically, in retrospect, an advisor talked Goodell out of showing the frosty beverage onscreen. But now it can be told: As the latter part of the seventh round played out, the commish was sneaking sips between camera shots and enjoying the buzz that accompanied a highly satisfying outcome.
"I actually had (a beer), but I didn't show it to you," Goodell admitted. "I was told not to show it. So, I had it stashed, let's put it that way. Like anything, (there was concern), 'Well, there'll be people that react this way and that way, so ...' But I really didn't care about how they reacted -- I just wanted one."
By that point, Goodell was rocking a T-shirt -- "that's when the clothes started coming off," he said -- and looking extremely comfortable in his own skin.
"One of the things that was really cool about this draft was that it painted Roger in a different light," Wingo said. "Look, we all get it: He's a target. He's an easy villain. He takes the slings and arrows for the owners. But this humanized him in an unexpected way.
"Toward the end, I was waiting for him to come out with a smoking jacket and a pipe. That would have been a great flex at 2 p.m. on a Saturday."
At times during the three-day marathon, Goodell had acted like a man of the people -- to his own neighbors, at least. There were broadcast trucks outside the house, and the spectacle had attracted a steady stream of onlookers, compelling local police officers to block off the street.
"Toward the end, I was waiting for him to come out with a smoking jacket and a pipe. That would have been a great flex at 2 p.m. on a Saturday." TREY WINGO
"People couldn't see anything," Goodell said, "but they were just walking by, and several times I just came out in the driveway and said hi."
The good vibes continued throughout the draft, with most coaches and GMs ultimately concluding that the experience had been a positive one. However, not everyone preferred the virtual format.
"The year before (in 2019), when we took Miles Sanders, that was a great moment," Roseman said. "We always bring in the position coach before the pick and watch the highlights together, and then we make the call and all rally around it. There were fist-bumps all around. It's about being part of a team.
"Obviously, these are First World problems, given what was going on in the world. But the draft is the one time when scouts get to enjoy the fruits of their labor, when after the pick we can all be together in the room, celebrating. The draft, it's about people. We weren't able to have those moments, and that's unfortunate.
"It was a once-in-a-lifetime experience in the midst of a crazy year -- and I'm glad we're going back to the way it was."
Well, things aren't going completely back to the way they were. For example, some of this year's draft prospects, including expected No. 1 overall pick Trevor Lawrence, have elected not to travel to Cleveland, and there will once again be cameras in those players' homes -- a reported 45 players will participate virtually, while 13 are scheduled to attend in person -- and an increased likelihood of on-screen prominence.
The Draft-A-Thon will be back for a second year, with Kay Adams of "Good Morning Football" stepping into the host's chair. And Eisen's Run Rich Run campaign and accompanying 40-yard-dash, normally a staple of NFL Scouting Combine coverage, will be aired on Day 3 of NFL Network's draft broadcast, with numerous NFL legends taking part, and proceeds (as per custom) benefitting St. Jude Children's Research Hospital.
There will also be one team taking a page from Kingsbury's playbook and drafting for the 'gram: Last Monday, the Los Angeles Rams announced they'll relocate their headquarters to the Rocket Mortgage Draft House, a 9,000-square foot Malibu mansion with an infinity pool and glorious views of the Pacific Ocean.
On Thursday, Kingsbury joked to reporters that the move was "just a ploy by McVay to allow himself the opportunity to take his shirt off again and jump in the pool like he did on Hard Knocks, sip some rose´, take a dip in the ocean and make some draft picks."
To Goodell, the Kingsbury/McVay connection as the deal's impetus seemed like a reasonable thesis, though the sponsorship component likely played a role.
"Well, what makes this league great, in my view, is the competition," the commissioner said. "So, yeah, that wouldn't surprise me. And I don't think (the Rams) would have done that had it not been for the experience last year. I think that's where innovation just sort of takes over and guys say, 'Hey, this was cool. It didn't distract. Let's do this.' "
That said, Goodell is looking forward to getting back in front of a crowd; he even said he's eagerly anticipating the obligatory boos that will greet him when he takes the stage in Cleveland. Yet, as the NFL -- like American society at large -- moves closer to a return to Life Before COVID-19, the challenge is to try to replicate some of the secret sauce that made the Virtual Draft so appetizing.
"I definitely think it gave all of us a new perspective," said Los Angeles Chargers coach Brandon Staley, who was the Rams' defensive coordinator at the time of the draft. "Everyone directly involved saw an even more human component, because of how unique it was. It gave us access into people's homes, which was really cool. You miss the energy of the city, but it was different and it was special. I think everyone will probably remember it for a long time. I certainly will."
"I think it came at a time when people were looking for hope. I think people were looking for something normal and something other than the daily White House briefings." ROGER GOODELL
Goodell has made plenty of controversial decisions during his 15-year run as commissioner, but in retrospect, electing to move forward with the 2020 draft will go down as a clear and obvious winner.
"Well, listen, I was obviously very conscious of the circumstances," he said. "I think it came at a time when people were looking for hope. I think people were looking for something normal and something other than the daily White House briefings, or the daily information that we were all being faced with and challenged with every day."
Said Wingo: "There were a lot of people -- certainly at ESPN, there were -- who were very concerned about the optics. But, to me, it was something we needed. Bob Ley and I did SportsCenter after 9/11, and I remember how hard that was. But eventually sports came back, and I felt like it helped get us all through it. With COVID, sports -- one thing we really could use -- weren't available for that whole stretch. People needed something. And look, if they had decided not to do the draft out of sensitivity, I totally would have understood. But in the end, I think it served its purpose better than anyone could have imagined. And I think the numbers showed us that people needed it."
For Goodell, validation arrived in a more personally packaged form.
"I will tell you," he said, "that the No. 1 thing that happened to me over the next six to eight months is you saw people -- and a lot of them were not football fans -- who just came up to you and said, 'I've never watched the draft before and I wouldn't have, but we were all quarantined and locked in our homes. It was the greatest thing. And I'm going to watch it from now on.' The number of people who said that to me that probably had no idea, even to that day, what the draft was -- they just loved it -- was striking. And that was really rewarding."
Goodell was also rewarded with the ultimate I told you so ammo, in the form of texts, emails and phone calls from some of the same coaches and GMs who'd freaked out on him in early April.
"There were a whole lot of people who said, 'You know, I was really on the other side of this, and I was wrong,' " Goodell said. "I never had one note or call from anybody that said it was a negative or that didn't enjoy it, honestly. Total agreement -- and that's all but impossible in our league."
And when all is said and done, it's quite possible that the Virtual Draft will go down as the NFL's most memorable Player Selection Meeting of all.