Tom Brady is unlike any other opponent in NFL history. Defensive players and coaches share what it's like to face a living legend -- and how they're preparing for one more chance at bringing down the G.O.A.T.
By Jim Trotter | September 1, 2022
The room is a basement by definition, but to the Law family, it is so much more. They consider it a shrine to the athletic greatness of Ty Law, the Hall of Fame cornerback who starred for the Patriots and three other teams over a 15-year NFL career. Among the mementos inside the lower level of his mother's Pennsylvania home are shiny trophies, colorful pictures, official jerseys and copies of newspaper and magazine stories. There also are footballs -- lots of footballs.
The balls from many of his 59 career interceptions are stored behind a glass encasement that covers an entire wall. They are not divided into categories, though it would be easy to separate them accordingly. For instance, some of the balls could be put in a section dedicated to interceptions of all-time greats, such as Dan Marino, Steve Young, Troy Aikman and Jim Kelly. Another area could be home to significant playoff interceptions, notably his three picks of Peyton Manning in the Patriots' January 2004 AFC Championship Game win over the Colts, and his 47-yard touchdown return in New England's Super Bowl win over Kurt Warner and the Rams.
There also could be a display classified as "How Do You Like Me Now?" which is where a football from an otherwise meaningless game in December 2005 would rest. Law was with the Jets, who were 3-11 at the time and headed toward their worst record in nearly a decade when they faced the Patriots on Monday Night Football in Giants Stadium. They would lose, 31-21, but in the first quarter, Law jumped an out route to New England receiver David Givens and returned the interception 74 yards for a touchdown.
Law made a point of keeping that ball, not only because it was the longest pick-six of his career, but also because it was a reminder to the Patriots of whom they had let go that offseason after 10 seasons and three championships together. Making the moment even more memorable was that the takeaway came against quarterback Tom Brady, a close friend whose practices against Law were the definition of competitive excellence. Neither gave an inch in those sessions, but now Law had taken an interception of his buddy-turned-rival 2,664 inches on national television.
Still seething the next morning, Brady phoned Law and playfully demanded answers.
"What the f--- did you see?" he said.
"There are certain guys in this league where their name holds a little more meaning, and if you're able to make a play against them it's kind of big. Tom Brady is probably at the top of that list." -- Anthony Walker
"I played with you for seven years; I know the tendencies," Law responded. "You can't do the same s--- on me you do on other people."
Law laughed while recounting the conversation. However, his tone, like that of so many others, was unmistakably reverent when highlighting what it's like to face off against someone who is universally regarded as the greatest quarterback -- if not player -- of all time.
Brady's accomplishments over 22 seasons fall somewhere between sublime and ridiculous. He holds regular-season and postseason records for, among other things, most Super Bowl appearances and wins, most games started and won, most passing yards and passing touchdowns, most Super Bowl MVPs and most game-winning drives in the playoffs.
Brady has done it so well for so long that his trail of vanquished opponents includes the fathers of some currently active players. But every athletic journey has a finish line, and Brady appears to be nearing his. The 45-year-old, who spent the past two seasons with the Bucs after being with the Patriots for the previous 20, announced his retirement earlier this offseason, only to change his mind and return to Tampa 40 days later. There seemingly is nothing to keep him from playing beyond this year, but the likelihood seems more remote each time he pulls back the curtain ever so slightly in his press conferences and hints at factors that could steer him away.
If this actually is the final act for him, opponents have taken notice. I spoke to nearly two dozen opposing players and coaches who, to a man, said playing against Brady is special just because of who he is and what he brings. But they acknowledged that facing him as he potentially makes his way out the door adds an additional layer of anticipation, if not motivation, because they might never get another chance to line up against him.
"We play the Buccaneers on] [Nov. 27. I know that date," said Browns linebacker Anthony Walker. "I have a lot of friends on that team, and there's been a lot of trash talk in the offseason, but you also know who the quarterback is. You know what his name means, what his presence means. You want to do great things against the best. It was kind of like getting ready to play against (seven-time Pro Bowl running back) Adrian Peterson my second year in the league. It wasn't prime AP, but it was still a name. There are certain guys in this league where their name holds a little more meaning, and if you're able to make a play against them, it's kind of big. Tom Brady is probably at the top of that list."
NFL players are taught to treat each game as its own entity. They speak of the 24-hour rule, which calls for them to turn the page the day after a game is over. But facing someone of Brady's stature makes it difficult not to look ahead or back.
"It's different when you play him," said All-Pro end Cam Heyward, whose Steelers will face Brady and the Bucs on Oct. 16. "It's not just that you put him on a pedestal and say, 'This is the greatest of all time,' it's that this guy is a competitor who can beat you in so many different ways and understands the game at a totally different level. I caught myself rewatching some of the stuff he's done over the years, and it's remarkable how he knows how to find the vulnerable spots, how he knows how to find the perfect play. It brings out the best in your defense, and if it doesn't bring out the best, it brings out the worst in your defense."
The difficulty for defenses is that Brady can play any game. Some quarterbacks excel at downfield passes, others at dink-and-dunks. Brady can do either with numbing proficiency. He will never be known for his mobility, but few quarterbacks have ever moved as well in the pocket as he has, sliding to either side or stepping forward or backward to evade pressure. He will never be confused for Lamar Jackson in terms of foot speed, but he scrambles just well enough to pick up first downs.
That said, the thing that truly separates Brady from others is his preparation. He is relentless in his study of opponents and their tendencies, both individually and collectively. In 2001, the Patriots were facing Washington in a preseason game. Rarely do teams game plan or scout the opponent in such situations. It's more an opportunity to work on yourself and your team. But when linebacker Antonio Pierce lined up across from Brady, then a backup to Drew Bledsoe, he was shocked to hear Brady identifying him as a rookie instead of as the middle linebacker, which is customary.
"Whenever you play Brady, you've got to prepare two game plans, pretty much." -- Raheem Morris
Brady's pregame studies were that detailed, even for an exhibition game. It's why it's not a stretch to call him football's Hotel California: He can check out anytime he likes, but he will never leave the heads of defensive players and coaches.
"When you play Tom Brady, you're playing the present man, the athlete that stands before you, and you're also playing every ghost of all his successes," said ESPN analyst Ryan Clark, who was 1-3 in head-to-head meetings against Brady during his 13-season playing career. "What I mean by that is, you've seen him come back so many times that you could be dominating a game and still be petrified that, Oh my God, that's still Tom Brady over there. You get some young dudes, a rookie, who says, Oh, man. He ain't even that good. But those who know, and those who have experienced it, are like, No, that's still Tom. Lock in."
Raheem Morris is intimately familiar with the Ghost of Brady. He was the Falcons' assistant head coach when Atlanta took a 28-3 lead on Brady and the Patriots halfway through the third quarter of Super Bowl LI. The game appeared to be over. The largest comeback in Super Bowl history at that time was by 10 points, and no team had ever rallied to win a playoff game after trailing by 16 or more in the fourth quarter. New England trailed by 19 with just under 10 minutes to go in regulation.
None of that mattered to Brady, whose largest comeback to date had been 24 points. He calmly led the Patriots to score on five consecutive possessions, going 21-of-27 for 246 yards and a touchdown over the fourth quarter and overtime, as New England prevailed, 34-28.
"Whenever you play Brady, you've got to prepare two game plans, pretty much," Morris said. "You've got to have something ready to go in the first half, knowing he's going to get a read on your looks and make adjustments in the second half; then you have to have a game plan for the second half -- not to surprise him, but give him a different look. You've always got to be proactive on your changes and be proactive on what you want to do. It's not like playing everybody else when you go in with a game plan and if it's working, don't mess with it. You better be ready to adjust and improvise to how he's going to adjust and improvise in the second half."
Morris found himself in a similar situation last season, when, as defensive coordinator of the Rams, he saw Los Angeles go up 27-3 on Brady and the Bucs midway through the third quarter of their Divisional Round playoff game. Then it happened. Again.
Brady led Tampa Bay to 24 consecutive points, tying the score with 42 seconds to play. The story was writing itself: Morris experiences Brady heartbreak once more!
"It would have been a cool story for you guys to write about, but I'm glad you didn't get that chance to write it," said Morris, laughing. "Truthfully, that Super Bowl loss did not cross my mind during the game. There's no doubt it [was] brought up before the game. You certainly used it in preparation when talking to your guys about staying in the fight. But once the game starts, he's already got an edge on you if you're thinking about it."
Morris, like so many others, is effusive in his praise of Brady. He saw something special in him the first time he played him, during the 2005 season. Morris was the assistant defensive backs coach on a Bucs defense that would finish the year No. 1 in points against and eighth overall.
"He stood in the pocket and looked so comfortable and absolutely delivered passes with a great rush around him. We had Simeon Rice and Derrick Brooks blitzing in the A gap. He stood in the pocket without flinching and delivered balls down the field. You're thinking to yourself, 'Man, this guy is something different.' Who knew that in 2022, two decades later, you'd still be talking about this guy in this fashion? He's outstanding. He's the G.O.A.T."
Which makes the opportunity to face off against him different -- dare we say, special -- from competing against anyone else, particularly if this is his final season.
"To have him come back and this possibly be a farewell tour is a chance for everyone to appreciate his greatness," Morris said. "It will be something you can look back on, for sure, as a coach or player or anybody that has had to prepare for him and know that that was a special moment. You're talking about the Michael Jordan of our game, the Pelé of our game. You're talking about the greatest of the greats. He's a guy you tell your kids you played against and competed against, that you were one of the few who actually beat him. That's special."
Browns safety John Johnson played against Brady slightly more than 21 months ago, yet the details are as clear to him today as they were then. Suited up for the Rams at the time, he baited Brady into an uncharacteristically poor throw that came right to Johnson.
"It hit me in the chest and … I dropped it," said Johnson. "It was a pick-six -- wide open, untouched. After the game, I was like, 'Darn, that might be the only chance I have to pick Tom.' Now that the opportunity has presented itself again, I'm definitely going to get up for that game. I'm not going to force anything. It's just that if you can get a pick off arguably the greatest to ever do it, it's awesome. I'll take that ball home, frame it, and no one is touching it."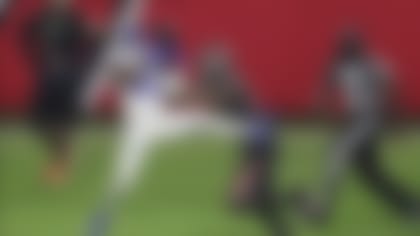 Vikings cornerback Patrick Peterson has a Brady ball in his trophy case. In Week 2 of the 2012 season, while playing for the Cardinals, he dropped into zone coverage from the left slot. Brady took the snap and looked for wide receiver Julian Edelman on a short crossing route from left to right. His pass was deflected near the line of scrimmage by tackle Darnell Dockett, and Peterson dove and extended one hand for an acrobatic interception.
The sequence of events still play in high definition in his mind's eye. "Anytime you get a G.O.A.T. ball in your collection, there's nothing like it," said Peterson, whose regular-season schedule this year does not include Tampa. "If we play them in the playoffs this year, it would definitely count [as two interceptions] if I get a pick, because you know he's on the tail end of his career and he's definitely solidified himself as the G.O.A.T. Actually, I'd probably count it as FOUR picks."
The only thing Brady hates more than losing is turnovers. Of the nine quarterbacks with at least 8,000 career pass attempts, he ranks No. 1 in interception percentage, at 1.8. Among the 11 quarterbacks with at least 7,000 pass attempts, only Aaron Rodgers (1.3) has a lower percentage.
That type of ball security is not achieved by accident. It requires not only an ability to get the ball out on time and in rhythm, but also a complete understanding of what the defense is attempting to do. That means hours upon hours of study, which is supposed to be part of the job. But the reality is that everyone hits a lull, a period or week when their attention to detail lags.
"He's a guy you tell your kids you played against and competed against, that you were one of the few who actually beat him. That's special." -- Raheem Morris
Everyone but Brady, which makes games against him unlike most others.
"When everybody's got your game circled on the schedule, and you know it, and you can mentally, physically and emotionally get yourself to where you need to be so they don't have an edge in their preparation, where they don't have an edge in how badly they want to win, it speaks to his mental toughness and his desire to want to win," said Raiders coach Josh McDaniels, who spent 14 seasons as Brady's position coach or coordinator in New England. "It could have been a meaningless non-division game in the middle of October, and it meant the same to him as most everything else we did.
"To be able to do that day in, day out, every single time he was going to go out there, I think he felt it was his obligation to be completely and totally prepared to give the team his best, and that's what he did. That's a rare quality. There are not many people who can do that or who have to do that. There are not many people who are faced with that, because there are not many people who get circled on the schedule every single time they go out to play. That's what has happened to him since he was very young. Being on the sideline with him during those games -- not every game was pretty and went our way. But if we're in the middle of the third quarter and behind, you knew you had a chance. You always knew you had a chance."
Walker, the Browns linebacker, watched in January 2021 as Brady threw three interceptions in the Bucs' NFC Championship Game win over the Packers. What caught his attention was that teammates never wavered despite Brady's struggles, which was a dramatic contrast from previous years under Jameis Winston, the former No. 1 overall pick, who was 2-9 with the Bucs when throwing three or more interceptions in a game.
Walker called a friend on the Tampa Bay defense and asked about the difference in attitude.
"He said, 'That's the Tom Brady Effect,' " Walker said. "That's an ability to get guys to rally around you because they know you're going to make a play when it matters most. Hold on long enough, and he'll fix it. When your team believes in you that much, you give your team a shot."
Joe Woods, Cleveland's defensive coordinator, experienced a similar phenomena in 2009 as a defensive backs coach with the Vikings. That year, Brett Favre joined the organization after 16 seasons with the Packers and one with the Jets. Minnesota had made the playoffs just twice in the previous eight years and appeared to be on the rise, going from 6-10 to 8-8 to 10-6 and a first-round loss to the Eagles. The belief was that they needed a talented quarterback to take that next step, which was the impetus to signing Favre.
In his first year, the former Super Bowl MVP led them to 12 victories and a spot in the NFC Championship Game, where they lost in overtime to the Saints.
"It was like instantly in the building -- coaches, players, employees -- there was a whole attitude change, because everyone was like, 'That's the final missing piece; now I know we can win,' " said Woods. "The confidence and mindset of everyone changes because you know what he can do. That's the same effect Tom Brady had going to Tampa."
Actually, his impact was even more significant than Favre's, in that the Bucs won the Super Bowl in his first season there, then followed with an NFC South title last season. Year 3 could be more challenging than the previous two, in that the interior of the offensive line has been hurt by injuries, free agency and retirement. Division-rival New Orleans also has an upgraded roster, with the return of Winston from ACL surgery, wideout Michael Thomas from ankle surgery and the addition of wide receivers Jarvis Landry and Chris Olave via free agency and the draft, respectively.
But Brady has been around long enough to know that no one is feeling sorry for him. Like he has for most of his career, he is going to get his opponents' A games, particularly with them knowing this is likely his final season.
"Absolutely," said Browns end Myles Garrett. "You want to be able to say you sacked that guy. I missed a chance to sack Drew Brees, and I still think about it. There are so many guys where you're like, 'I just want the opportunity to play against them.' Being able to play against Aaron Rodgers was a big one. Going Brady is another. He's the greatest winner in our sport, and knowing that he's such a talented passer and great leader -- he has all the intangibles. He'll probably go down as the G.O.A.T. Whether you're for that or against that, the man knows how to get his team in a position to win. No matter what you say about how that happened, he's always been at the head of the line, and he remains there today."
Editors: Ali Bhanpuri, Tom Blair, Brooke Cersosimo
Illustration by: Albert Lee