Joe Burrow is smart, talented and supremely confident -- and he's got the Bengals contending for the first time in years.
By Judy Battista | Dec. 1, 2021
It was the start of the Cincinnati Bengals' bye week, and Joe Burrow was asked about the team's mindset after a fast start had stalled with two straight losses before the break. Burrow's tone in interviews can best be called imperturbable. His low voice is as devoid of angst when discussing a losing streak ("You look across the league and a lot of teams are in our situation") as it is lacking in giddiness when asked about being compared to Joe Montana ("Let's relax, OK?").
The evenness is part of what has made Burrow, in his second season since the Bengals drafted him first overall in 2020, an almost perfectly crafted quarterback for this franchise at this moment. Less than two years removed from a rock-bottom, two-win season, the Bengals are 7-4 in the AFC North, having responded to their first consecutive losses of the year with a convincing win over the Raiders in Week 11 and an even more convincing drubbing of the division-rival Steelers in Week 12. During that 2019 nadir, they were outscored by 141 points -- and now, they are ranked sixth in the league in scoring, positioned in the wide-open conference to chase both the team's first winning record and its first playoff appearance since 2015.
These Bengals are different, a fact that is best embodied by their first season sweep of Pittsburgh since 2009. And while the defense (they are also ranked sixth in points allowed) and run game (Joe Mixon is ranked third in the NFL in rushing yards) have played a part in the franchise's transformation, the steady Burrow -- completing 69.3 percent of his passes, with 22 touchdowns and 12 interceptions this season, the year after suffering a serious knee injury -- is at the center.
Burrow's intelligence made him a collegiate supernova who burst into the football consciousness with an out-of-nowhere senior season at LSU in 2019 following a switch in scheme that took advantage of what NFL Media draft analyst Daniel Jeremiah calls Burrow's superpower -- his field vision.
Burrow would have been a fit in any offense on any team. But two off-the-field moments gave a glimpse of the personality that has the Bengals believing they have finally found the franchise quarterback to erase years of futility and self-doubt.
The first: 30 seconds of a heartfelt speech, given as Burrow received the Heisman Trophy in December of 2019, about people in rural Ohio struggling with hunger and poverty. It highlighted Burrow's ability to command a room and reach the disparate personalities in it, a skill that his college and pro teammate, defensive end Sam Hubbard, sums up this way: "He can get along with anybody."
The second: A month later, an iconic photo of Burrow was snapped moments after LSU won the national championship. His legs are crossed, and his left arm is slung over a sofa as he contemplates the victory cigar he's smoking, like a cleats-wearing member of the Rat Pack. There, the nation saw what the franchise needed most: a supremely confident player who relishes being in the big moments and dismantling the doubts that have shadowed much of his career.
The Bengals haven't had a quarterback with this much talent married with this much personality -- Burrow recently wore a bright green suit to a production meeting, showed off a multi-colored get-up before the Raiders game, routinely sports SpongeBob-themed shoes and pocket squares and shocked teammates with his knowledge of Batman and imitation of the Joker -- since Boomer Esiason. Esiason was, coincidentally or not, also the last Bengals quarterback to not only win a playoff game, but take the Bengals to the Super Bowl. That was more than 30 years ago, and for an organization that in the past has seemed slow to evolve (the Bengals still do not have an indoor practice facility, for instance), Burrow has been a badly needed jolt.
"Ah! I can't put into words, what it does for a franchise," Esiason said, of having someone like Burrow in Cincinnati.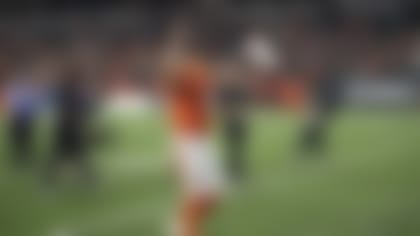 A losing streak, a litany of franchise haplessness, paper bags, the Bungles. These markers of failure litter the Bengals' often tortured history. Now, though, that history is merely the latest pebble on Burrow's own path. He is a magnet for low expectations -- and he has repeatedly, wildly, exceeded them.
"I think going all the way back to high school, that's been what I've had to overcome," Burrow said before the Bengals dispersed for their Week 10 bye. "I think coming into this situation, we have a really good team. We have a great coaching staff that we're fired up about. Everyone is kind of writing us off again, and we're going to do our best to get back in the win column, and then we'll get rolling."
The wins over the Raiders and Steelers -- in which Burrow even scrapped with linebacker T.J. Watt -- have the Bengals on the roll Burrow promised. But they also begged the question: Why does Burrow get underestimated in the first place?
"You know, that's a good question," Burrow said. "It's been something that followed me, and something I've relished, to be honest. I don't know why people like to root against me or anything like that. It's always happened, so I've just always had to find ways to overcome it and ignore it and focus on myself."
Burrow is the child of two educators -- his father, Jimmy, retired in 2019 after a long career as a high school and college football coach -- and his family tree is dotted with standout athletes. Burrow's family lived the peripatetic life commonplace in the coaching world, hopscotching around the Midwest for Jimmy's jobs.
One stop took them to Lincoln, Nebraska, where Jimmy -- who played at Nebraska, then played three games for the Packers in 1976 before moving on to the Canadian Football League -- coached Burrow's two older brothers. It was around then that Joe started playing youth football. He was asked to play quarterback because his team didn't have one. Of all the Burrow men, he is the only one not to spend his career on defense.
The move was fortuitous, not just because playing quarterback would take advantage of his coach's-son proclivity for studying and understanding the nuances of the entire game, but because the position fit nicely with his demeanor. Like most standout athletes, Burrow is intensely competitive; Jeremiah spent time with him when Burrow was in school and said his competitiveness will almost make you uncomfortable. But few also possess a belief in self as strong as Burrow's.
The stories from those earliest years on a football field and basketball court -- where Joe became a standout high school point guard -- foreshadow the player Burrow has become as an adult. He once led an AAU basketball team back from an eight-point deficit with 30 seconds to play. In an ESPN.com story, his father recalled a conversation during a high school basketball game when Burrow, who never turned down a chance to hoist a 3-pointer, was struggling with his shot. His father suggested perhaps working the ball closer to the basket before shooting. "I'm a shooter," the son replied. "That's what I do. I'm going to keep shooting 3s."
Last year, as a rookie who had not yet taken a snap in an NFL game, Burrow told reporters on a Zoom call that he was not nervous about running the offense; rather, he was excited. Asked if it surprised him that he was not nervous before starting his big new job, Burrow laughed.
"Absolutely not," he responded. "Have you ever heard anything else about me about being nervous?"
That NFL Films clip from the Bengals' game against the Jaguars in September? The one in which Burrow took a huge hit from a blitz while completing a pass, and then was heard saying, "Just put it in my hands. It's over"? That has been Burrow's mindset since he was a kid.
"I always wanted the ball in my hand with the game on the line going back to basketball and fourth or fifth grade," Burrow said. "I remember there were multiple times where I made some pretty incredible comebacks in peewee basketball that we caught on tape that were a lot to fun. That's how I've always liked it."
The Burrows settled in The Plains, Ohio, in 2005, when Jimmy began what became a 14-year tenure as Ohio University's defensive coordinator. Joe was part of a class that quickly elevated Athens High School from prep also-ran to the state playoffs. By then, the dream was for Burrow to follow his father and brothers to Nebraska.
Burrow was Ohio's Mr. Football in 2014, but early questions about his arm strength dogged him, and he was largely overlooked, even at all-star events. Nebraska passed on Burrow twice, once out of high school and again when he transferred from Ohio State after bad timing landed him on the bench behind J.T. Barrett and, later, Dwayne Haskins, costing him a chance to win the starting job in Columbus. Becoming a quarterback for a living seemed so far-fetched then that Burrow -- who got a degree from Ohio State in consumer and family finance in three years -- did an internship at Goldman Sachs in 2016.
"I was going to have to get a real-world job," Burrow said. "But it turned out differently."
Quite. Burrow was so impressive after his transfer to LSU that it spurred then-coach Ed Orgeron to accelerate his plan to abandon a run-heavy offense in favor of the wide-open spread system in which Burrow exploded -- deep-ball passes included -- leading LSU to the national championship.
"This guy, more so than anybody I've seen, has the ability to redirect focus. His overall demeanor is, this guy means business right now." -- Bengals tight end C.J. Uzomah
Burrow crafted perhaps the greatest college quarterbacking season in history. Still, those earlier rejections and questions about his talent provided fodder for a mental list that Burrow admits he kept of those who questioned him. It gives Burrow a swagger and healthy anger that Jeremiah said reminded him of Tom Brady, who famously remained annoyed and frustrated about being a sixth-round draft pick long after he had become the NFL's best quarterback.
"I used to do that," Burrow said. "As I've grown and matured I've realized that none of that really matters. It used to be what kept me going, but nowadays I have a lot more internally that I can be motivated about. I don't need any of that outside motivation. I have it all internally trying to be the best player and the best teammate I can be."
Burrow's arm strength resurfaced as a talking point before last year's draft. Jeremiah, a former NFL scout, said that on a scale from 3 to 7, in which 5 is average, he thought Burrow had a 5-plus arm -- a little above average. For comparison's sake, Chargers quarterback Justin Herbert, who was drafted five spots after Burrow and went on to win Offensive Rookie of the Year, has a 7 arm. But Jeremiah thought Burrow's vision was so over-the-top outstanding that it would more than compensate for his arm.
"The anticipation -- I'd rather take somebody with A-plus anticipation and a 5-plus arm than the other way around," Jeremiah said. "This guy's got as good a vision as any quarterback in a long, long time. I wrote 'swagger' -- exclamation point. I remember talking to somebody who said he's somebody that if you went to the driving range with him, you wouldn't think anything. Then he goes and shoots a 68. When the game starts, that's when he wows you. I thought the guy was an assassin. You want to put the ball in his hands."
From the moment the Bengals did put the ball in his hands, Burrow seized it. Minutes after his media obligations were completed following his selection, he texted tight end C.J. Uzomah, among others, to organize a throwing session. Uzomah, who was drafted by the Bengals in 2015, was ecstatic.
"Coming in hot -- that's what you want your leader to be," Uzomah said. "My first impression was he's getting ready to work and right the ship."
He was even more dazzled when the film study began. Uzomah said Burrow routinely will tell him how the opposing defense is going to play a certain route and how he wants Uzomah to modify the route against a particular coverage.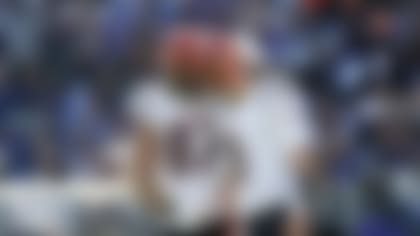 "I'm looking around like, we're allowed to do that? The quarterback is saying so, so I'm going to do what he says if I can get open," Uzomah said. "He is the smartest person on the field at all times. Him knowing coverage schemes, him knowing how the defense is going to attack us in certain situations, the hash marks, I'm like, dude, nice. This alleviates some of the mental strain on my part, because you're going to put us in the best possible position. That's the most impressive part of his game."
Uzomah recently warned veteran receiver Tyler Boyd about what goes on during quarterback Jeopardy! on Saturday night.
As part of their game preparation, the quarterbacks, along with selected other members of the offense, answer questions, Jeopardy!-style. Uzomah has sat in on some of the sessions and said players must know the ins and outs of the entire playbook and game plan -- not just what might happen in the upcoming game, but plays from weeks ago. The Final Jeopardy question usually has nothing to do with football but is often related to the city where the game will be played. How many stories are in the Freedom Tower? How many people does the Ford Motor Company employ?
"What in the world -- how am I supposed to know how many bridges Pittsburgh has?" Uzomah said.
Burrow, invariably, knows.
"He has this bizarre process to where he gets the right answer before any of the other five guys can," Bengals coach Zac Taylor said. "He's got this problem-solving, riddle-solving I can't explain, that he always wins that question. And then when he goes through explaining his process and how he got there, someone says, 'Just shut up. You did it. You win.' He's got a different mental makeup than the rest of us. That's why you're the national champion, Heisman Trophy-winning, No. 1 pick in the draft. There's a reason you do that and we don't."
"You could see his body changing. I told him, 'Damn Joe, you're getting swole.' " -- Bengals DE Sam Hubbard
It has been a little over one year since Burrow tore the ACL and MCL in his left knee during a game against Washington in Week 11 last season. As the bus pulled out of FedExField that day, Burrow was seated in the row in front of Taylor. The scene has stuck with Taylor ever since, because Burrow did not mention the end of his promising season (Burrow set Bengals rookie records for completion percentage, passing yards per game and passer rating).
"All he wants to talk about is what happened in the second half, the first half we were throwing the ball well, did they change, did they adjust?" Taylor recalled. "It's not, 'Hey, my knee really hurts, I just tore my ACL,' it's what happened in the second half, why didn't we win that game? Those were his questions. That's how he's wired. He's always trying to process what's going on with himself and the team. He got hurt; nothing he could do about it. That seemed to be his attitude."
Burrow rehabbed in California and was intent on getting better as a quarterback while also recovering from knee surgery. It was, he says, difficult to find ways to improve at throwing the ball while he could barely walk around. The plan was to get bigger and stronger. Hubbard and Uzomah both spent time working out with Burrow during his rehab, and Hubbard noted how much extra body work Burrow was putting in, with a lot of pushups and pullups.
"You could see his body changing," Hubbard said. "I told him, 'Damn Joe, you're getting swole.' "
Said Uzomah of their offseason workouts: "He was slinging that thing to me. I felt a little extra zip on the ball for sure. His arm strength has always been there, but for the deep balls and certain over-the-field throws, he's getting it on us a little quicker. That also just comes with time and timing with the receivers and being in his second year. I'm not entirely sure it's completely the strength, but there is definitely something noticeable."
The arrival of rookie receiver Ja'Marr Chase, with whom Burrow played at LSU, has expanded and extended the Bengals' offense this season. The thousands of reps Chase and Burrow had already shared meant there was no acclimation period, and their production is a big part of the reason the Bengals are 11th in the league in yards per play. Burrow is tied for the sixth-fastest average time to throw (2.65 seconds) and is second in the league with 7.8 yards per attempt on quick passes this season.
Burrow is careful to credit others with the improvements in the Bengals, and he says that he sees himself developing as this young team continues to develop. But, of course, the Bengals need Burrow to do more than just participate in the growth -- they need him to lead it. That is likely to come through the demands Burrow will make on his teammates.
Jeremiah expects that, like Brady and other great quarterbacks, Burrow will simply not stand for mediocrity and losing. He'll will the Bengals to improve. His teammates have already seen the signs of that. Before a recent walk-through, players were joking around. As soon as the offense got into the huddle, the laughing stopped, and Burrow took control, telling the offense how the play was going to unfold.
"It's a switch," Uzomah said. "This guy, more so than anybody I've seen, has the ability to redirect focus. His overall demeanor is, this guy means business right now."
There are born leaders and ones who learn how to do it. Burrow seems to be the former.
A widely circulated anecdote from the run-up to the draft, first reported in The Athletic, had Burrow telling an LSU staffer that the school had to hold a pro day before the 2020 NFL Draft. The NFL had already virtually shut down because of COVID-19, and no scouts or team executives were on the road to visit schools. Burrow was assured that it wouldn't affect him -- he was going to be picked first overall, whether there was a pro day or not. Burrow told the staffer he wasn't worried about himself -- he wanted the pro day so his teammates who didn't go to the NFL Scouting Combine had a showcase for teams to see them.
"I've always tried to find the connection with everybody I meet," Burrow said. "And I think that's a big part of being a leader. In business or football or sports, everyone has been around leaders that just say what they think they're supposed to say. I think the best leaders know the individuals they are trying to lead and how to talk to that individual, not just spewing out random leadership phrases. You just have to know how to talk to each guy in order to get a point that you're trying to get across."
Burrow is still learning a bit about the reach he now has. He never expected the outpouring of donations to the Athens County Food Pantry -- it topped $650,000 -- following his Heisman speech. He had grown up seeing how hunger affected a lot of people he went to school with, how insecure they were about their situations. In the nearly two years since the speech, Burrow has heard from some of his old teachers about kids who heard it and told the teacher that their family goes to that food bank all the time -- they were proud of their association with it.
"I walk around walking my dog and people are rolling down their windows screaming 'Let's go!' " -- C.J. Uzomah
"That really made me feel happy that I could bring that to those people," Burrow said. "It was eye-opening about the impact that my words could have both for positive effects and negative effects. I really had to step back and understand what my voice could mean negatively as well, and so I started thinking about interviews more."
Because of Burrow, everyone else is thinking about the Bengals more than they have in years. In the topsy-turvy AFC, the Bengals spent a week as the top overall seed and are currently slotted in as a wild-card team, sitting in the AFC North just one game behind the Ravens -- whom they beat once and will face again the day after Christmas. Chase is considered a candidate for Offensive Rookie of the Year. And for the first time since 2018, when Marvin Lewis was the coach and Andy Dalton the quarterback, the Bengals will play meaningful games in December.
"I walk around walking my dog and people are rolling down their windows screaming 'Let's go!' " Uzomah said. "Oh my God -- cool, thanks! It hasn't been this way in a while. We've definitely generated a good amount of buzz. You can definitely feel a shift in the air."
Burrow's arm seems to be strong enough after all.
Editors: Ali Bhanpuri, Tom Blair, Brooke Cersosimo
Illustration by: Dennis Padua
Illustration photo courtesy of: Associated Press