Before Tom Brady returns to Foxborough, former NFL players share their own firsthand memories of facing the teams they once fought for.
By Brooke Cersosimo | Sept. 29, 2021
When Tom Brady steps onto the field at Gillette Stadium on Sunday, it will be for his 135th start there -- but his first wearing the uniform of the opposing team.
After building one of the premier dynasties in sports history, Brady and the Patriots parted ways last year. Now, he'll have the chance to finally face off against Bill Belichick and the organization with whom he became one of the game's best quarterbacks, in a building where he worked for nearly half of his adult life, in front of fans who first started cheering him on roughly two decades ago.
Before Brady revisits his past on this singularly unusual game day, former NFL players who had their own memorable homecomings share, in their own words, what it was like to play against the teams with which they established their careers, in their old home cities, clad in enemy colors:
---
---
How soon did you have your homecoming game circled on the calendar?
DeAngelo Hall, CB (Falcons, 2004-07); returned to Atlanta with Washington on Nov. 8, 2009: The day the schedules came out. I highlighted it and everything. My situation was a little different than some others, because I left Atlanta on bad terms. I resented them, and [I'm] pretty sure they resented me.
In three years (with the Falcons), I made two Pro Bowls and was one of the best young corners in the league. I outplayed my rookie contract, and the plan was to get a new deal done two years early. It didn't get done, and I played my fourth season. We weren't very good that year (2007), so (head coach Bobby) Petrino left and (Thomas) Dimitroff came in (as general manager in January of 2008). I heard whispers that Dimitroff was trying to trade me. ... The line was drawn in the sand, so I went to the (NFL Scouting) Combine to meet with teams. (NFL Network colleague) Mike Garafolo always jokes about how I pulled up there that year.
I signed with Oakland because I had exhausted all the other teams -- mostly we couldn't agree to terms on length of the deal or price -- and (late owner) Al Davis came in late. I signed a bad deal because I was stubborn and was hellbent on not going back to Atlanta. I actually faced Atlanta in Oakland that year, and I was expecting to go out and dominate as a team. But we weren't very good that year and lost.
Terrell Suggs, LB, (Ravens, 2003-2018); returned to Baltimore with the Arizona Cardinals on Sept. 15, 2019: My relationship with the Ravens wasn't a sour one when I moved on. You kind of sensed that the team was transitioning. I knew Ozzie (Newsome) was stepping down from general manager (in 2019), and a lot of guys had already considered leaving, so we kind of anticipated it. There was no bad blood. Everybody was just sad because of the transition from the old team to the new era, so I didn't really have it circled. Then the schedule came out, and it's like Week 2 in Baltimore. So the stakes are still pretty high.
Kurt Warner, QB (Rams, 1998-2003); returned to St. Louis with the Arizona Cardinals on Nov. 20, 2005: I don't think it's ever a great departure when you leave a place where you've had so much success. It was unceremonious for me. Getting released and having it happen the way it did -- more their decision than it was mine -- I wouldn't say there were feelings of animosity. More disappointment in how it played out ... I wasn't one to circle a game, but without a doubt, when it became Ram Week, there were a lot of emotions and things going through my mind -- like, man, it would be really nice to go back and beat my old team. But it wasn't an overriding feeling, because you have to remember that I was benched in New York, too (in 2004, with the Giants). So my main focus was to show people I can still play.
Willie McGinest, LB (Patriots, 1994-2005); returned to New England with the Cleveland Browns on Oct. 7, 2007: I saw it on there. To be honest, it wasn't something I was looking at every week. Our team was dealing with so many other things internally and trying to win games, and I was coming off another back surgery. As the game got closer, yeah, I cared more about it. But our coach, Romeo Crennel, was an ex-Patriot and always conditioned us to think one week at a time.
Jared Allen, DE (Chiefs, 2004-07); returned to Kansas City with the Vikings on Oct. 2, 2011: Yeah, I had two homecoming games (in Kansas City with the Vikings and in Minnesota with the Bears), but returning to Kansas City was more volatile after being away awhile, having success in Minnesota, going back to a place where I planned on spending my entire career, being drafted there and the way it went down ... we had some contract issues. I wanted to stay, and the organization didn't want to give me a long-term deal. ... Anytime you return to the place you left or where they gave you up, so to speak, you obviously want to give it to them. There's a little extra in there. You want them to know they made the wrong decision in not keeping you. You're fired up.
The best way to describe it is, it's probably the closest thing you can get to that college or high school rivalry. It takes the professionalism out of the sport, and there's just that little bit of extra emotion that you want to stick it to this team.
---
---
How was homecoming week different from other weeks?
DeAngelo Hall (who landed in Washington after being waived by the Raiders during the 2008 season): In other weeks, you have an understanding of who the opponent is, but I was just on that team a year and a half ago, so I had a direct understanding about certain players, like how to get under their skin, or how Roddy White liked to run routes. There was a whole new regime, so I wasn't familiar with the offense. But I could help my guys out with certain players.
Isaac Bruce, WR (Rams, 1994-2007); returned to St. Louis with the San Francisco 49ers on Dec. 21, 2008 and Jan. 3, 2010: First of all, doing a conference call from San Francisco to the beat writers in St. Louis was tremendously odd. Sitting down watching film of the Rams' defense, the players and watching those colors and preparing to play against (everything I knew so well), those things were odd. The rest of the week, I got a lot of questions about the possible (1,000th career) reception or things, like what did I expect to happen, or did I expect to get booed or cheered. I didn't think those were unfair questions, but more unsensible questions. Considering the body of work that was put in in that city, with those fans, to me, I looked at it as a holiday or reunion with your family. You've been gone for a couple of months, and now you go back. I was never booed when I came home from college to see my family, so I didn't expect the fans to boo. They were still the same fans I made so many memories with.
"I had to really contain myself, because I was trying not to cry. You know, I loved that team so much, and the organization, that I never thought in my wildest dreams that I would be in another uniform." -- Terrell Suggs
Willie McGinest: In preparation, I wanted to be perfect. I knew they were going to be well-prepared and attack certain weaknesses of ours, and I knew certain Patriots players and their tendencies, so I could help our team prepare for different personnel. But because Bill Belichick and Josh McDaniels are so game-specific, I honestly felt like I was going in blind.
Terrell Suggs: I never knew an opponent so well. I was fully prepared, no matter how much film I watched; it was a very weird feeling.
Kurt Warner: I don't think (it was different), for the most part. The hardest part in the preparation are the questions leading up to it. Other weeks, you're asked about the opponent, but now you have a new set of questions. Of course, every player is going to downplay that it's just another game, but I think it's nearly impossible to say it's just another game when you have a history with another organization, no matter how (the end) played out.
Jared Allen: It's actually a distraction. I left there (after) 2007, so I was three, almost four seasons removed, and my animosity was gone, because I was in the heart of my contract with the Vikings. But you have to answer those questions, and heck, you gotta get tickets, because you know a hell of a lot of people in that market space. Players handle distraction in two different ways. Some people let it get to them, and others focus in a little harder. I try to prepare the same way, week in and week out. But there's a little more emotion that comes with game day, and in the back of your mind, you're like, I better focus in a little bit harder, because I don't wanna get pancaked in front of all these people.
---
---
Was there anyone you were trying to show up?
DeAngelo Hall: I was going to be matched up with Roddy White, and I had a good relationship with him. I wasn't trying to do anything malicious. If anything, I wanted to show up the coaching staff for not keeping me around. I ended up in a dirty situation on the sideline when I went after (Washington teammate) LaRon (Landry). He had a late hit on (Falcons quarterback) Matt Ryan out of bounds, so I went after [Landry] (to stop him), and before I knew it, there were two Falcons players trying to grab me. Then three. Then some coaches. The strength coach, Jeff Fish. It was clear then that it was known on the Falcons' sideline that D-Hall was coming back. Fish was actually my trainer after my Achilles injury later on in my career. We joke about that fiasco now.
Jared Allen: Not really, because they didn't draft anybody and run me out (of town). (In the 2008 season), when I first left, the entire Chiefs team had 10 sacks and I had like 14.5. … If anything, I was trying to show up ownership, the Hunt family. (Former general manager) Carl (Peterson) wasn't there anymore. I wanted to let the organization know that they should've seen things my way and kept me. But, you know, they got draft picks, and it worked out well for everybody. It all depends on what the departure looks like.
---
---
Did you talk to former coaches and teammates before the game?
DeAngelo Hall: I shook hands with a few people, but I was locked in. I remember seeing my kids on the sideline, then I was ready to roll.
Terrell Suggs: I went over to say hi to coach (John Harbaugh) and was like, "What's up, coach?" I never wished him good luck, but told him to stay healthy -- like I said, I was there to win. I did text (Ravens defensive tackle) Brandon Williams the week of the game and was like, "Yo, what's the scouting report on me?" I just had fun with it.
Willie McGinest: That's one thing that's a little overwhelming. I played there for 12 years, left, and now I'm coming back. It was nice seeing everybody -- the kitchen staff, groundskeepers, trainers, everyone. It was great to see who greeted and missed you and who cared ... Yeah, I talked to people in passing, but I was also in game mode. I don't care if we were best friends or we were cool, I wasn't reminiscing much beforehand. I was focused on the game. After the game, we could be chummy and cool.
---
---
Describe your emotions leading up to kickoff.
DeAngelo Hall: Extremely high. I felt comfortable because I was in a familiar place, but it was different being in the other locker room as a visitor. Fans are booing the away team, but once I got on the sideline, I don't hear anybody in the stands.
Isaac Bruce: I was game-ready. I had the -- fortunate or unfortunate -- opportunity to play as a visitor in the (Edward Jones) Dome two times. My last year, Year 16 (in 2009), some of the rookies -- Michael Crabtree, (second-year pro) Josh Morgan and some of the younger wide receivers playing with me in San Francisco -- they talked coach (Mike) Singletary into having me dress. I hadn't dressed in seven weeks up until that game. I knew I wasn't going to play, but I did dress. I ran the first play of the game and that was pretty much it. From that moment, there were mixed emotions when I came back out in the second half in street clothes. They put me up on the Jumbotron and gave me a standing ovation.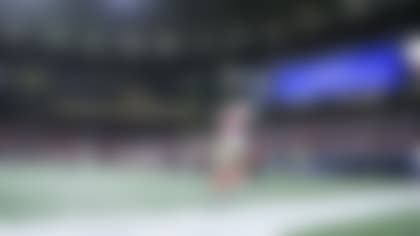 When I was with the Rams, we had had some big moments and big games against the 49ers. To me, it was unfortunate to where the two organizations had fallen to in those two seasons in which I had played for the 49ers. We didn't have the opportunity to really be two teams heading for the playoffs or playing for the division. That kind of made the game more about emotions and really my last moments playing as a football player.
Terrell Suggs: Oh, my emotions were really high. I had to really contain myself, because I was trying not to cry. You know, I loved that team so much, and the organization, that I never thought in my wildest dreams that I would be in another uniform. After the game, Brandon Williams ran up and hugged me. I cried a little bit then, and yeah, it was just emotional.
Kurt Warner: I don't remember it being much different. I'd imagine that there was a little more anxiety, but I was pretty good at getting focused for the game. I feel like it was more emotional the week leading up to it rather than the actual game.
Jared Allen: There's something nostalgic about Arrowhead in general. I came into the stadium to the visitors' locker room, a place I had never been before. I made that walk in the tunnels hundreds, probably thousands, of times, and the smells are still there, and when you walk that tunnel, there's just a little more emotion and adrenaline that goes with it. And I was an emotional player, so you could imagine. It's not all negative, either. I spent four years coming to the stadium, and you remember the good, the bad, the excitement. The nostalgia and little bump that Arrowhead can give you when you're playing on the right side is something. But coming in as a visitor, I remember thinking I can't give these guys any reason to cheer against me.
Willie McGinest: I was hyped and amped and ready to go. I knew they were going to game plan several plays toward me, so it was kind of a chess match to see who was going to win on certain plays. Once the emotions and everything else settled down, it became a regular game.
---
---
How were you received by your former team's fan base?
DeAngelo Hall: We weren't announced before the game, but I saw some D-Hall jerseys. I hung out after the game and went to the Falcons family area, because that's where my family was at, and because we knew some of the Falcons players. I felt the love from fans after the game. They wanted pictures, autographs. I didn't feel as though they didn't want me there. They almost sympathized with me.
Isaac Bruce: It was all "Bruce" calls, man. Pretty much every time I showed up on the Jumbotron or caught a pass, when I caught my 1,000th pass in the end zone, there were cheers and "Bruce" calls. I actually just felt like I was at home.
"You want the fans to embrace you and understand it was nothing personal to leave them." -- Kurt Warner
Willie McGinest: I was emotional, because I got a standing ovation from the crowd. I didn't know how the crowd was going to receive me for leaving. Were they going to boo or give me a half-ass clap? But I had a great homecoming. It was exciting seeing all those No. 55 jerseys in the stands.
Terrell Suggs: I was well-received, but if we had won, I think they probably would've booed me. When I ran out, made a tackle, they clapped and showed tremendous love for me until the end.
Kurt Warner: Very well. And it's how Tom Brady will be received in New England. I'd bet there will be as many Brady fans as New England fans.
Jared Allen: I think the fans anywhere I go know I appreciate them, and I show up for them. For me, it was great. Unfortunately, good or bad I guess, my departure played out very transparently in the media. Everybody knew my feelings that I wanted to stay (in Kansas City), so my reception was great. ... Any good fan base should boo you when you play for the other team. When I sacked Matt Cassel, the fans actually cheered. I remember thinking, Man, that's messed up. Here they were cheering me when I just sacked their quarterback. But no, the K.C. fan base is great, and they've been nothing but awesome, as well as the organization. We've put bygones behind us and they actually invited me back to the alumni events and all that.
---
---
Was there anything you specifically looked forward to?
DeAngelo Hall: I remember seeing stadium security and equipment guys and other people in the Falcons organization, and it was so cool to see them and talk to them.
Isaac Bruce: My two years in San Francisco, I felt like a mercenary. My first home game with the 49ers, wearing their colors, warming up on their side of the field, looking around at Candlestick, I got the same welcoming from those fans in that stadium that I got when I was with the Rams. Guys flipping me off, telling me where I could go -- those were the 49ers fans. Going back to St. Louis, I was interested in seeing my teammates that I had just left, the security guards, equipment managers, all the people I had hung out with, and I was excited to see the stadium again. When I played there, it was a pleasant drive from my home town to the dome, sometimes past the (Gateway) Arch, past the normal faces I had seen for 14 years.
Terrell Suggs: I was definitely looking forward to coming back to the stadium again, coming back to Baltimore. I was used to seeing my kids sitting in a certain section wearing Ravens jerseys. This time, my kids came in Cardinals jerseys and sat in a different section, so it sure was weird for them. But I enjoyed it.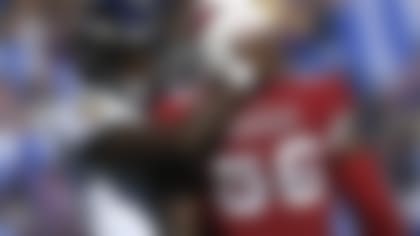 Willie McGinest: I was comfortable going back because I knew exactly where everything was. Of course, it was different not going into the home locker room and going to the first locker on the left. But I knew where the play clock and all that was, so I wasn't learning anything new. But walking back into the stadium and remembering how it all started was kind of overwhelming, too. We had so many battles in that stadium ... There are so many memories.
Kurt Warner: I was looking forward to being back in that environment, although there's always a piece of you that wonders how everybody else sees it. As players, we all have egos and want everyone to love us and understand the business part of the game. So all week, you wonder, how am I going to be received by my people? Will they appreciate everything I did in that period of time with them, or will they look at me as the enemy? You want the fans to embrace you and understand it was nothing personal to leave them.
Jared Allen: For me, it was generally exciting to go back and see the training staff and the equipment staff. Tamba (Hali) was still there, and I knew a lot of guys on the roster.
---
---
Was there anyone you tried to avoid?
DeAngelo Hall: (Falcons owner) Arthur Blank. Not in a bad way, though. I was a 20-year-old kid when I went there, and he'd have me and my wife over for dinner sometimes. The beef I had was with Dimitroff and, in turn, with the organization. So I didn't want to talk to Arthur, because I knew he would want to talk, and he'd put a smile on my face. I didn't want that, because it was business for me.
Willie McGinest: Not necessarily, but the issues I had with the front office were discussed and handled behind closed doors. When I came back, I probably looked at Scott Pioli (who was then in the Patriots' front office) and gave him the head nod, like, "You'll see." We're close now, but that moment probably happened.
---
---
How did you feel about the outcome of the game?
DeAngelo Hall (two tackles in a 31-17 loss): I didn't like it. My performance was fine, but all I wanted to do was win, and we didn't. Looking back on it now, I don't like the way I depicted myself after the game. With the fiasco on the sideline and being an immature, young kid, I made it all about me after the game. Then everything became about that. It wasn't my proudest moment, but I relish and cherish the moments, good or bad, because they taught me so many different lessons about how to conduct myself. You live and learn.
When it came to (then-Falcons head coach) Mike Smith (who was a central figure in the sideline episode), I left that game pissed off. Oddly enough, he ended up being my coach at the 2011 Pro Bowl, and we got a chance to squash it and talk about it. At the end of that talk, I was like, "I'm going to go get that W for you." I won MVP of that game.
Willie McGinest (two tackles in a 34-17 loss): I wasn't happy, because I wanted to win. Now, we know we were playing one of the greatest teams in NFL history that went 16-0 in the regular season. But honestly, there were a lot of players in our locker room who didn't have the right mentality. They were ready to go, but right when something went wrong, all of the positivity went away.
Isaac Bruce (seven catches, 61 yards, 1 TD in a 17-16 win): I knew after probably two or three grabs in that game that (my 1,000th catch) was going to happen. I did know most of the year that I would have an opportunity to catch my 1,000th pass. It just so happened -- and it was a pleasant surprise -- that it happened in St. Louis. I felt really good (about the outcome), but there's one thing I wish wouldn't have happened in that game. When I caught No. 1,000, I think I ran one of the best routes I had ever run versus one of my former teammates -- or just in general -- throughout my entire career. It was what we call a "Spin 4," and I kind of baited him to take my inside move, then I just planted my foot like I had done for years. I went back outside, and I was pretty wide open. He was probably 2 yards away from me. I could've caught the ball standing up, but he ended up tackling me really for no reason, and I wanted to stay on my feet to really salute the crowd or do whatever I was going to do in that moment. To get tackled on my 1,000th catch was something I wish wouldn't have happened.
Kurt Warner (285 yards, 3 TDs, 0 INTs in 38-28 win): I played well. We won, so it worked out in my favor. Earlier in the year, when the Rams came to Arizona, we fumbled the snap in the red zone and didn't win it. So it was nice to get this one back in St. Louis.
Jared Allen (2 sacks in 22-17 loss): I played well but we lost, which sucked. It was a close one, and we had lost 13 games that year. Losing stinks, but I think performance-wise was great, because I ended up getting Matt (Cassel) a couple of times. I was able to have a dominant game, but the Chiefs were able to win, so the crowd didn't have to hate me for two reasons.
---
---
What are your thoughts on Tom Brady's return to New England?
Terrell Suggs: It's going to be exciting. Boston is a tough crowd, but he's done too much for them not to welcome him back. They are always going to back their team, and they'll cheer against him. But I don't think they'll be as hard on him as they would be every other team's quarterback.
Kurt Warner: Tom Brady and all his success in New England and the mutual departure -- at least that's what it seemed on the outside -- it doesn't matter. He's going back, and there's still the emotions that go with it. It's not just winning another game; there's more to it to beat them.
Jared Allen: I'm sure when Brady goes back to New England, the last thing he wants to do is throw an interception or lose to a rookie, right?!
Willie McGinest: How can the Patriots fans feel anything but love and gratitude for the guy who helped win six Lombardis? He did so many selfless things to help his teams in New England win games, like taking pay cuts and bringing players in. You can't find a lot of flaws in how he conducted himself and what he's done for his teammates and coaches.
Editors: Ali Bhanpuri, Tom Blair, Dan Parr
Illustration photos courtesy of: Associated Press