FLORHAM PARK, N.J. -- One year ago, Tim Tebow as an NFL phenomenon was still fresh. Perhaps you remember.
Yes, we know, how could you forget?
Instant Debate: Gauging the market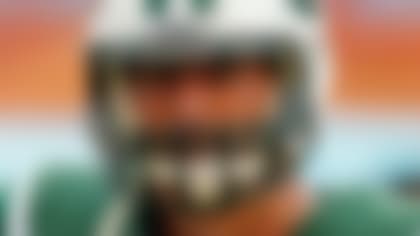 "Yeah, put it all on us. We started it," a laughing Dolphins guard Richie Incognito said in a phone interview Thursday. Then, more seriously, "A lot of things are said about the guy, but when he's in there, he's proven that he can win ballgames."
"Tim's a competitor and a winner," general manager Mike Tannenbaum said then. "This is an opportunity to add a dynamic playmaker, and we're really excited about it."
In the Jets' seven games this season, there's been no magic, little dynamic playmaking and more talk than action. Other teams aren't "doing some of the things we do with Tim," offensive coordinator Tony Sparano said last month.
Maybe practices provide evidence of creativity and innovation. On game days, Tebow has 22 rushes for 76 yards and has completed two of three passes, one on a fake punt. The Jets' idea was that Tebow's presence would keep opposing defensive coordinators up at night; that remains unproven, though the Indianapolis Colts did indicate that they spent 30 percent of their practice time prepping for Tebow. The notion that he would confound defenses remains entirely untested.
Yet Sparano said Thursday: "I have a pretty good feel on how to use him and how to use him best. I'm not still trying to figure that out. I was born in the day, but not yesterday."
If Sparano has a Tebow package to unveil, maybe Sunday will be the day. After all, Sparano said he is still trying to anticipate how defenses will counter Tebow; the Dolphins have seen him more than any Jets opponent. He was on the field for a season-high 12 of 82 offensive plays in Week 3. And Sparano was Miami's head coach last October, when Tebow authored the comeback.
The Dolphins don't crumble at the thought of facing Tebow and the wildcat. In recent years, they've seen the wildcat in practice more than any team in the league. But Dolphins defensive end Cameron Wake, when asked Thursday what he remembered from that game a year ago, described a Tebow-run offense as "just something a little different than you're used to seeing."
Wake said each player must be disciplined and focus solely on doing his job.
"Because the minute that you don't, (if) you see something that you shouldn't see or try to do too much, (then) you're outside of your gap and you're displaced and then they're capitalizing on that," Wake said in a phone interview. "It's one of those offenses where you have to make sure you do what you're supposed to do and you're where you're supposed to be."
Wake, who has 6.5 sacks in his past three games, said if Tebow is at quarterback, he would try to disrupt him, no different than if it's "a Sanchez or a (Tom) Brady." Unlike a starting quarterback, however, Tebow has had no opportunity to get into a rhythm. His playing time has been too disjointed for that. He does not, and will not, complain.
"I just try to do the best I can with each opportunity," Tebow said.
Rapoport: Week 8 game rankings What's the best game on the Week 8 slate? The worst? Ian Rapoport provides a pecking order in his Rap Sheet Rankings. More ...
That sentiment is representative of much of Tebow's interaction with the media. He unfailingly says the right thing, and his face does not betray him. He smiles sincerely.
Even Ryan allows that the competitor in Tebow surely would like more playing time. Ryans says Tebow is no different than injured Bart Scott, whose playing time was limited against the Patriots, or new Jet Aaron Berry, who would like to play more.
In the Jets' locker room, there is no public clamor for more Tebow. The players tired of the topic long ago and have treated it gingerly without exception.
Leave it to Mike Pouncey, a Dolphins player -- and former Tebow teammate at the University of Florida -- to speak most candidly on the topic of Tebow and playing time.
"Tebow is a playmaker," Pouncey told ESPN New York 98.7 FM on Thursday. "With playmakers, you either start them or you don't. You can't expect him to play five plays in a game and come in the game and make magic. You have to let him loose and let him make the plays he's always been known to make."
Tebow probably would smile at such a statement. But he'd be unlikely to make much of a comment. Earlier this month, Tebow was so bored waiting for the Monday night game that he started his pregame workout more than four hours before kickoff. But he won't even admit that spending so much time on the sidelines during games tests his patience.
"You want to be able to help your team in any way possible and if your number is called to do that on the field, then that makes me excited," he said. "If it's to be someone with a great attitude, enthusiasm and leadership on the sideline, then I'm going to do that, as well."
In Tebow, the Jets have a good soldier and a terrific punt protector. Nearly halfway through the NFL season, whatever else they might have remains a closely guarded secret.