Identical twins Tylan and Tracin Wallace were blessed with remarkable, indistinguishable athleticism. But their football fates were anything but equal. One is on his way to the NFL, the other had to give up his dream.
By Chase Goodbread | April 1, 2021
STILLWATER, Okla. – The guilt is gone for Tylan Wallace. For about 14 months the Oklahoma State wide receiver lugged it around, from the day his identical twin brother Tracin's football career was ended by a third ACL tear until the day Tylan's career suffered one of its own. It wasn't the kind of guilt one feels for doing or saying something wrong. Experts on the human condition classify his as existential guilt – the sort one can feel from success or good fortune while another person or group suffers without.
The twins were blessed with remarkable athletic ability, endowed equally, such that distinguishing between them as athletes was once as hard as telling them apart in appearance. But the fates that befell their football careers were anything but equal.
One is on his way to the NFL. The other, at just 21, has had to give up playing football altogether.
Tylan can't say he's been through all that Tracin has when it comes to knee injuries. Tracin's three ACL tears all damaged the same left knee, requiring four surgeries, including bone-graft and microfracture procedures. His last surgery didn't even carry a goal of putting him back on a football field; it was more about long-term quality of life – the mobility to at least play with his kids one day. Tracin is now pursuing a coaching career as a volunteer student assistant on Cowboys coach Mike Gundy's staff.
But Tylan now knows what a torn ACL feels like. What it's like to have it happen on a practice field, without 55,000 OSU fans who could've at least applauded a cart exit had it happened in a game. What it's like to get an accurate diagnosis from an instant gut feeling – "deep down, I knew as soon as it happened," he says – before trainers had even rushed to his side.
What it's like to wonder if you'll be the same player again.
Now, they've both been there.
Tylan burst onto the college scene just as Tracin made his exit from it, exploding for 1,491 yards as a sophomore in 2018 to establish himself as one of college football's elite wide receivers. Well on his way to another 1,000-yard season in 2019, he sustained his first torn ACL in a November 2019 practice and suddenly no longer felt an unfairness about his own success.
It's still not right that he's on track to play on Sundays, while Tracin isn't.
It's still not right that Tracin recorded exactly one receiving yard for his college career, while watching his twin amass nearly 3,500.
It's still not right that twin brothers, bonded in ways even their family members can't always understand, were made to separate by the sport they love.
But the guilt is gone. And Tracin Wallace wouldn't want his brother toting it anyway.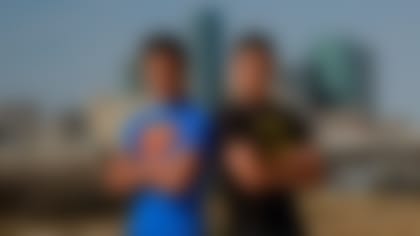 The narrative begins online, where one gold star helped foster the public perception that the Wallace twins were, indeed, very different after all. Recruiting services crowned Tylan (pronounced TIE-lin) with four stars, Tracin (TRAY-sin) with three. That's of no significance when college freshmen report for fall camp and a recruiting class begins competing for playing time. But among the fervent college football fans who follow recruiting, plenty of whom help fill T. Boone Pickens Stadium on fall Saturdays, four-star signees are truly prized. Three-star guys aren't.
One service, 247Sports, rated Tylan one of the nation's top 150 prospects and 18th overall in the state of Texas. Tracin, on the other hand, was ranked No. 740 by the recruiting service. And who could blame them? Tracin's first ACL tear cost him the entire 2015 high school season, and it happened to be his junior year, when scholarship offers and star ratings are solidified. His second ACL tear robbed him of all but the first two games of his senior season, leaving colleges to evaluate film of Tracin playing quarterback as a high school sophomore. Tylan, by contrast, was a four-year varsity star receiver for Fort Worth South Hills and garnered scholarship offers from the likes of Michigan, Oklahoma, Notre Dame and Oregon.
"Had Tracin not gotten hurt, two things would've happened. He would've gone down as one of the greatest high school quarterbacks to ever play in Texas, and his recruitment would've been much different." MIKE HARP
Tracin had 13 offers of his own but none from those powerhouse programs. It all served to bury the fact that Tracin once stayed a half step ahead of Tylan, athletically speaking, not the other way around.
It was Tracin who was picked for a youth baseball all-star circuit, not Tylan. It was Tracin who was the budding star at quarterback for South Hills as a ninth grader. The first letter from a college recruiter to hit the family mailbox was addressed to Tracin, not Tylan.
"Had Tracin not gotten hurt, two things would've happened," South Hills coach Mika Harp said. "He would've gone down as one of the greatest high school quarterbacks to ever play in Texas, and his recruitment would've been much different."
Which is to say, it would've been much the same as Tylan's.
Oklahoma State was the most prominent program to offer both twins, followed by Tulsa, SMU and Florida International and several others. But a years-long pact the two had made to play college ball together wouldn't be put asunder by the powerhouse programs that wanted Tylan only. Tylan's determination to play with Tracin heeled them all, until Oklahoma made one last run.
In October 2016, current Philadelphia Eagles WR Jalen Reagor decommitted from OU, and the Sooners quickly turned to Tylan to take Reagor's spot in their signing class. They made the oft-repeated mistake of offering Tylan alone, and when they came back later with an offer for his brother, he wasn't biting.
"They said they could bring him in, too, but it was kind of obvious they were just doing it to get me," Tylan said. "That's not what we were in this for. We wanted to go somewhere that really wanted us both."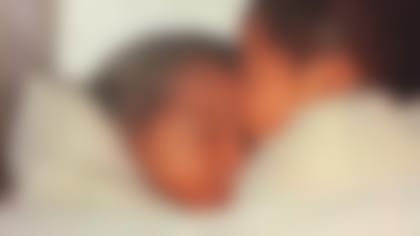 Once Mandi Moore had overcome the initial shock that she would be single-parenting twins along with her 4-year-old daughter, she began to notice one constant each time her prenatal care called for a sonogram: the twins' heads were always touching.
It was enough to render a bit of fear in the expectant mother that the heads were conjoined. The obstetrician assured her they weren't, but the sonogram told no lie: Tracin Wallace was born first, and Tylan followed minutes later featuring a temporary indention on the side of his skull, where Tracin's head had rested for months.
It was the first marker of a bond the two share that, even for identical twins, is out of the ordinary.
The hospital staff separated them in their own sterile bassinets, but the twins would have none of it. They slept well only when sharing one. Nothing about that changed at home; Mandi had bought two cribs, but soon enough, one was just for show. She placed them on opposite ends of her larger crib as a matter of safety, and in the morning she would find them together, heads touching. They couldn't yet crawl but found a way to roll or scoot to the center.
"Their closeness is something they share with each other. It's a little private. They don't always let the rest of the world in on it." MANDI MOORE
In time, a phenomenon known as Cryptophasia set in.
To adults, it is senseless babbling. But to twins who develop Cryptophasia, it is a language only they can speak and understand. Like any parent, Mandi tried to teach them the simplest words first – mom, toy, ball, all the monosyllabic basics for babies – encouraging the twins to repeat them back to her. They didn't learn that way. Most babies can speak a few words by age 1; Tylan and Tracin only communicated with each other, as Mandi recalls it, until they were at least 3.
"They could have a full-on conversation, and it was obvious they were getting through to each other, and we couldn't make out a single word," Mandi said. "They'd talk, then run off together, and you knew one had convinced the other to go do something. This was past the point where they should have been speaking some English. The doctor always said, 'It happens with twins sometimes. They don't think they need to talk to you.' "
Their pre-school teacher put them on opposite ends of the classroom because, while well-behaved, they tended to distract each other. But to the Wallace twins, the classroom was no different than the crib. As soon as the teacher would turn her back, she'd turn again to find Tracin and Tylan sharing the same seat.
It was this kind of inseparability that, at times, defined the pair. Following Tracin's first ACL tear, he was unable to play baseball for South Hills High in the spring of 2016. Tylan refused to play without his brother, and never again picked up a bat, even though the brothers had excelled at the sport since tee-ball.
"Their closeness is something they share with each other," Mandi said. "It's a little private. They don't always let the rest of the world in on it."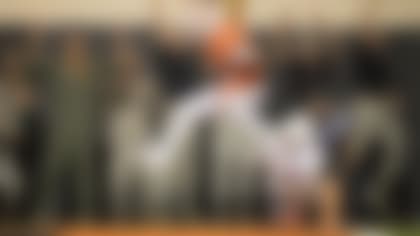 Tracin Wallace lined up in the slot on the left side, the last man in the formation to get set in the Cowboys' hurry-up attack, with about 13 minutes left in the fourth quarter. Oklahoma State was putting the finishing touches on a 58-17 trouncing of Missouri State to open the 2018 season, and backups were getting their turn. Quarterback Keondre Wudtee's first throw was a quick screen pass to Tracin, fired a bit low and a little out in front of him. The outside receiver, Korie Frausto, missed a block on the cornerback, who hammered Tracin with a crushing tackle at the line of scrimmage. Tracin managed to fall forward for a gain of 1, and that was his entire college career, statistically speaking.
One catch. One yard. One lifetime wondering how much more it could have been.
In the context of Oklahoma State's season, it meant nothing. To Tracin, it was everything.
"I've wished I could've just gotten a chance to make a move and do something with the ball," Tracin said of that 1-yard screen pass. "But the corner was all over it. I can't say I did a lot, but I can say I made a catch in a collegiate game. That's something nobody can take away from me."
Ten days later, in a practice before OSU's game against Boise State, he tore the ACL in his left knee for the third and final time, ending his playing career. This time, the knee would require two surgeries – the first was a bone graft – and doctors advised him to hang up his cleats for good. Furthermore, he was told a fourth ACL tear on the same knee could easily result in debilitating, chronic arthritis.
From his recovery room at McBride Orthopedic Hospital in Oklahoma City, he watched Tylan rack up 105 yards in an upset win over ranked Boise. Another receiver sustained an injury in the game, necessitating Tracin's backup to fill in. Tracin watched in silence, knowing the twins would have – should have – spent the day on the field together.
"Sometimes, I did feel guilty. I would think, 'Why him?' ... It was hard to accept." TYLAN WALLACE
Meanwhile, Tylan was on the brink of exploding onto the college football scene as one of the game's elite receivers. Week after week, he proved to be a more-than-capable replacement for James Washington, who had starred at OSU the previous year before becoming a second-round draft pick of the Pittsburgh Steelers. As Tracin came to grips with the end of a dream, Tylan's was rapidly being fulfilled.
Tracin downloaded a clip of his 1-yard catch to his phone and watched it repeatedly each day.
Tylan shredded sixth-ranked Texas (10 catches, 222 yards, two touchdowns).
Tracin got the quality-of life-speech from the OSU medical staff.
Tylan blistered sixth-ranked Oklahoma's secondary for 10-220-2.
Tracin took his first formal steps toward the coaching profession.
Tylan was named first-team All-Big 12 and was a finalist for the Biletnikoff Award as college football's top receiver.
As Tylan's star rose, Tracin's needed redirection.
Two careers once appearing destined to stay in lockstep veered in opposite directions, bittersweet for the family.
He'd begun the season looking to show what he could do; he finished it feeling compelled to show what Tracin should have done. His position coach, Kasey Dunn, didn't offer Tylan much guidance on compartmentalizing the fate of his twin brother's career, instead choosing to let him find his mental footing on his own.
That didn't take long; Tylan ripped off three consecutive 100-yard games immediately after his brother's injury. Nevertheless, Dunn had concerns that Tylan identified so closely with his twin brother, he might struggle to stay focused on his own game.
"Sometimes, I did feel guilty," Tylan said. "I would think, 'Why him?' ... It was hard to accept."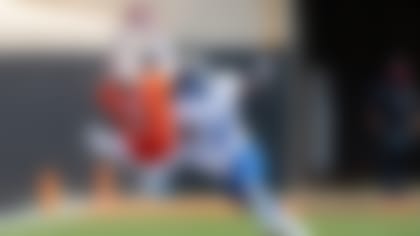 When the subject of Tylan Wallace's NFL potential comes up, the first point Mike Gundy makes has nothing to do with the 1,491 yards his receiver posted in his first season as a starter, or the 66 first-down catches that led all Power Five-conference receivers.
Wallace, he says, is a low-maintenance player at a position known to have its share of high-maintenance egos. He doesn't cut classes, fail drug tests, or shortcut workouts. Good citizenship might not be what puts fans in seats on Sundays, but the NFL scouts who've made their way through Stillwater have made it increasingly clear to Gundy that it's a paramount consideration where the draft is concerned.
"The clubs are tired of messing with problem guys, and Tylan will be a non-issue guy. He's not going to give any team a black eye for anything," Gundy said. "He's everything they look for from a character standpoint."
While character might be an easy evaluation for NFL clubs where Tylan is concerned, assessing his knee injury will be a bit more complicated. Tracin was more susceptible to recurrence due to a rehab process from his high school ACL tears that proved to be inadequate, while Tylan's tear happened at Oklahoma State, where he received what he called "the best of everything" in his rehab process. That should help allay any NFL fears about proneness to injury running in the family. Still, as with any draft prospect with a significant injury in his medical history, Wallace's medical exam will be closely scrutinized by club doctors.
The injury happened a little more than a year after Tracin suffered his third and final knee injury under similar circumstances. Tylan felt he'd torn his ACL the moment he fell to the turf of the Cowboys' indoor practice facility, and one of the first people by his side was Tracin.
"He came over to me when I was sitting there and told me I'd get through it," said Tylan, who at the time of the injury was leading the nation with 17.0 yards per reception. "And I believed him, because he'd been through it three times. He believed that I had what it took to get through it, too."
In the early stages of rehab, when Tylan struggled with simple things like flexion in his knee, Tracin was there to tell him that was entirely normal. And when things got abnormal – the latter stages of his rehab were slowed by the COVID-19 pandemic, which forced him to work out from home when OSU was shut down – Tylan already was sprinting and on the brink of return. Players rehabbing injuries were allowed back on campus in early June, before others, allowing Tylan to complete his recovery at OSU's training facility.
Roughly 10 months after the injury, Tylan returned to the field and blistered Tulsa for nearly 25 yards per catch (4 for 99) in his first game back.
Kasey Dunn, who coached two Biletnikoff Award winners at Oklahoma State – Washington and Justin Blackmon, a former top-five draft pick – tussles with the question of how Tylan Wallace stacks up as a player with those two. He cites Wallace's route-running and ability to make contested catches – "combat catches," he calls them – as two of his outstanding on-field skills.
"He's does everything so well, yet there isn't anything I'd say he's off the charts on," Dunn said. "Although he might be the most physical player of any of them. He will (hit) you."
Physicality isn't a common superlative for a 6-foot, 185-pound wide receiver, but it's a trait the NFL values at every position. One scout said his work ethic is outstanding and he "goes hard in the weight room." Wallace puts that physical style to use not only as a blocker and a route runner, but with the ball in the air as well.
"Tylan is the better rebounder (than Washington)," Gundy said, leaning on a basketball term in referring to deep throws targeting single coverage. "He can get up and get the ball at its highest point. He's textbook on that. And Tylan will make some circus catches, too."
In the OSU weight room, Cowboys strength and conditioning coach Rob Glass paints a similar picture of Wallace's athleticism: freakish in no area but deficient in none. OSU clocked Wallace at 4.45 seconds in the 40-yard dash prior to his injury.
"From a pure explosive perspective, he's above the curve, but he's not going to vertical 40 inches or anything like that," Glass said.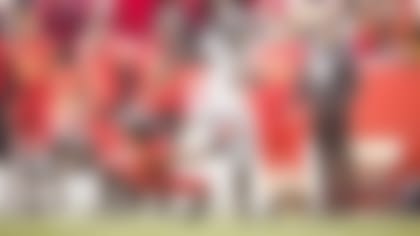 Tracin cracks a wide grin just at the thought of it. A legendary prank right there for the taking, and it didn't even require any planning or set-up. The opportunity presented itself at the College Football Hall of Fame in downtown Atlanta in December 2018, in the hours leading up to the Home Depot College Football Awards ceremony.
Tracin was there to support Tylan, who'd been named a finalist for the Biletnikoff Award as college football's top receiver, along with Alabama's Jerry Jeudy and UMass WR Andy Isabella. A Biletnikoff Award rep walked by and accidentally ushered the wrong twin.
"C'mon," he told Tracin. "You're supposed to be over here."
Tylan surely wouldn't have minded if Tracin had taken his place that night. At least once that they've admitted to, the twins switched classes in middle school without either teacher being the wiser. They're mistaken for one another all the time, and unless they're styling their hair two different ways, even people who've known them for years can struggle to tell them apart. Often when fans make the mistake, the misidentified twin won't even bother making the correction, instead just nodding with a smile and moving on.
With a smile, Tracin contemplates the sheer nerve and gumption that would've been required to dupe a Biletnikoff Award usher.
"We would never do something like that," he said.
To Tylan, the thought of his brother standing with Jeudy and Isabella last December, instead of him, is no joke.
---
---
Upon Tracin's arrival at Oklahoma State, he was nearly a year removed from his second ACL repair, but his recovery progress wasn't where it should've been. It didn't take long for the Cowboys coaching staff to realize a redshirt year would be a necessity.
"He had huge imbalances strength-wise. For where he was in his timeline, he was way behind. Strength, flexibility, proprioception, balance, kinesthetic awareness, everything," Glass said. "We revamped some things in his rehab to get him caught back up. We got him ready for practice by August, but we were playing catch-up."
As Tylan's career began to flourish while Tracin's stagnated, Mandi Moore began learning more about ACL injuries than she had understood from the two Tracin suffered in high school. And what she found was heart-breaking:
The rehab Tracin received in high school was lacking.
"We grew up our whole life almost being the same person. And now in a way, you've got to take two different paths." TYLAN WALLACE
"I wish I had known from the beginning what I know now," Moore said. "I had insurance at work that covered him, and the school district had a little (insurance) plan for athletes, and we just assumed whatever the insurance covered would be enough as long as the doctor eventually cleared him," Moore said. "But it wasn't enough. He got the minimum, and I didn't understand the difference between what the insurance would cover, and what he really needed. We took all that kind of at face value and we shouldn't have."
In a team meeting room at the OSU football facility, Tylan reflects on how his brother's football outcome has advanced an appreciation for his own. Downstairs in the OSU weight room, Tracin works out with the team, even though he's announced his retirement from the game.
They remain inseparable. After 21 years, the only thing that's managed to wedge between them is a sideline – that pesky stretch of chalk that keeps an aspiring pro on one side and an aspiring coach on the other.
"We grew up our whole life almost being the same person," Tylan said. "And now in a way, you've got to take two different paths."